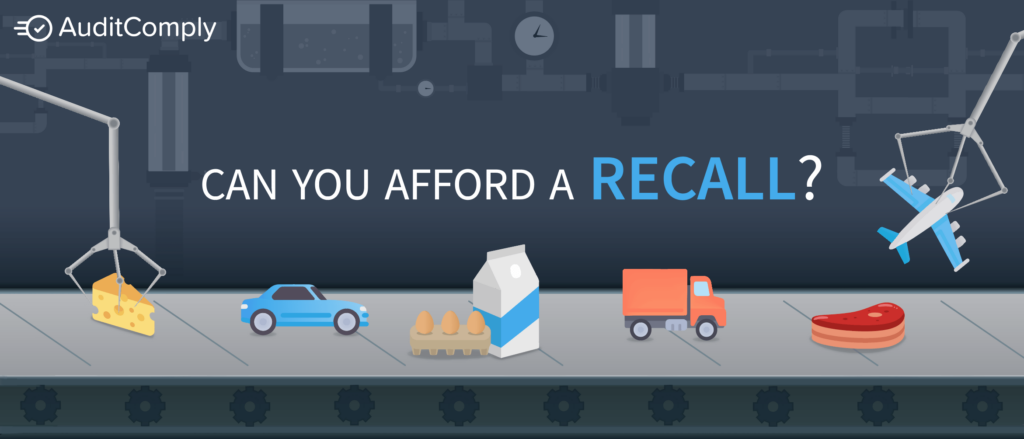 A product recall may be unpredictable, but it should not be unforeseeable.
100 Million Units.
$24 Billion.
Three Short Years.
$21,917,808 PER DAY. $913,242 PER HOUR. $15,220 PER MINUTE.
Are you the next Takata?
The total cost of a product recall depends on the crisis, product and other components, but rest assured the cost will be high! Don't think your organisation is too big to fail, there's no such thing. Takata, the Japanese automotive parts company, valued at $3.6 Billion, recalled 100 million airbags costing the company an estimated $24 Billion in three short years (Reuters). Takata shares have been falling steadily, collapsing by 95% since January 2014 resulting in the company filing for bankruptcy on the 25th June 2017.
Product Recalls are on the rise.
Product recalls have been dominating our headlines for a number of years, 2016 saw the number of U.S. automotive recalls increase to its highest level.
The U.S. Transportation Department said automakers recalled a record high 53.2 million vehicles in 2016. Even more concerning is that the statistics released by The National Highway Traffic Safety Administration, showed an almost threefold increase in the number of recalls over the prior year.
The U.S. is not alone, according to UK based law firm, RPC, the number of UK product recalls also hit a new high, increasing 48% in 2016.
The crisis which led to General Motors agreeing to pay the US Federal Government $900m in criminal damages, the recall of 800,000 cars and the cause of 124 deaths due to a potentially faulty ignition switch, may have prompted manufacturers to recall more swiftly and more often if they identified a potential problem says RPC'S legal team.
Of course, we can't forget about the Korean tech giant Samsung. Samsung's recall of their Galaxy Note 7 was one of the biggest recalls of 2016, costing the technology company $5.3 billion. Samsung issued a recall on 2.5 million phones after consumers reported the product catching fire, leading to loss of $335 million in future product sales.
The automotive and technology industry are not the only industries to suffer from widespread product recalls. According to RPC, recalls of food and drink products where potentially dangerous allergens had not been properly labelled increased by 62% in the UK during 2016 following the introduction of new EU legislation. The Food and Drug Administration in the U.S. recalled 318 million food items in 2016, while the U.S. Department of Agriculture recalled almost 60 million food products. (Stericycle Expert Solutions)
Of course increased regulations have placed further demands on food processors and manufacturers. Many have become heavily burdened with a growing number of customer and statutory audits, often these come unannounced.
Kevin Donaghy, CEO and Co-Founder, AuditComply, stresses that avoiding a crisis is better than a cure.
"Organizations are starting to realise just how important it is to stay compliant with these regulations as it is an essential aspect of operating both profitably and ethically across all industries. It is important for companies to stay on top of their compliance and how they go about conducting internal quality management tests is vitally important."
"More and more organizations are using Auditcomply to efficiently and effectively manage their quality control and risk management processes."
What will 2017 hold? Are you going to be another statistic?
About AuditComply
AuditComply increases productivity through efficient data collection, instantaneous reporting, issue tracking and data analytics. Supply Chain auditing is revolutionised with supplier access for self assessments and non conformance management making supplier performance monitoring more reliable and effective.
The cost of non-compliance is high, with wide reaching financial, commercial and legal consequences, affecting brand reputation, contracts, and with the risk of financial penalties. AuditComply helps mitigate risk, drives quality and optimises the complete manufacturing process from supplier to customer.
For more information about AuditComply contact info@auditcomply.com or visit the website at www.auditcomply.com.