Introducing AuditComply's All New Dashboard!
Richard Wilson
June 5, 2018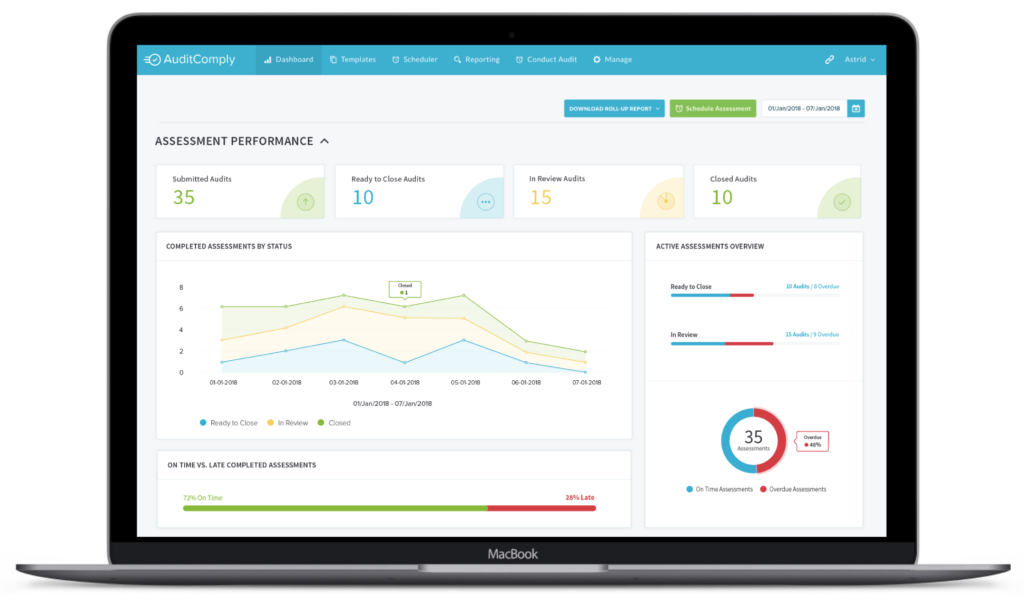 AuditComply is excited to announce the new features and modules within our newest release 4.31.0!
AuditComply is now putting more information at your fingertips than ever before with an improved holistic view of your Risk, Quality and Compliance Management with our bespoke new dashboard! This new and improved functionality allows users to gain further customization and reporting capabilities, providing your organization with more opportunities to boost business performance through better control and visibility.
 
Below is just a taste of what AuditComply's newest dashboard has to offer:
-Real-time dashboard reporting, trending and progress reports – see your organization's performance at a glance in a simplified but effective format.
-Dig deeper into your data with a more robust data overview, allowing you to make strategic business decisions faster. View the complete lifecycle of non-conformances and assessments.
-A more intuitive user-interface and display of your risk & compliance analytics designed to help streamline the way you work and use data to drive business performance.
"Release 4.31.0 and the new dashboard highlights not only another major milestone for AuditComply but demonstrates our commitment towards building the best Risk, Compliance and Quality software platform on the market today," stated Susan Fitzsimmons, Chief Operating officer at AuditComply. "Working with global organizations, early feedback so far has been excellent. As our current customers know, AuditComply continuously aims to innovate and works hard to enhance the overall user experience. Now, with a more intuitive dashboard and display of your Risk & Compliance analytics, AuditComply has streamlined the way you use data to drive your business performance even further."
Click here for more information on release 4.31.0
About AuditComply
AuditComply is a Risk & Performance Platform. We focus on solutions that provide visibility and control from one centralized system. Empowering organizations to implement robust complex assessment methodologies through their desktop and mobile application. Providing a clear accurate understanding of risk across the organization and clear understanding into an organization's risk profile. Using this data, to Mitigate Risk, Drive Compliance, Improve Quality & Power Performance.
For further information, please visit AuditComply.
To avail of a free trial of the award-winning AuditComply solution or to schedule a live demo, contact AuditComply, at +44 289 032 8115 , or e-mail us at info@auditcomply.com.