A new AuditComply, designed for the future
Richard Wilson
October 4, 2019

On Thursday 10th October, AuditComply is getting a fresh new look! AuditComply is evolving, and we've outgrown our current platform. We need a new look and layout that can support all the new features we're implementing. We've been working hard behind the scenes on a shiny new platform for a while, and we're really excited to share it with everyone!
A new design is coming but don't panic!
You don't need to do anything.
This won't affect you or your current operations; your assessments, templates, scoring schemes and reports will remain untouched. You'll still be able to do everything that you can do now, but things are just going to look and feel different.
–On Thursday 10th October we will implement the new design.
–This implementation will be instant so the next time you open the platform, you'll see the new version!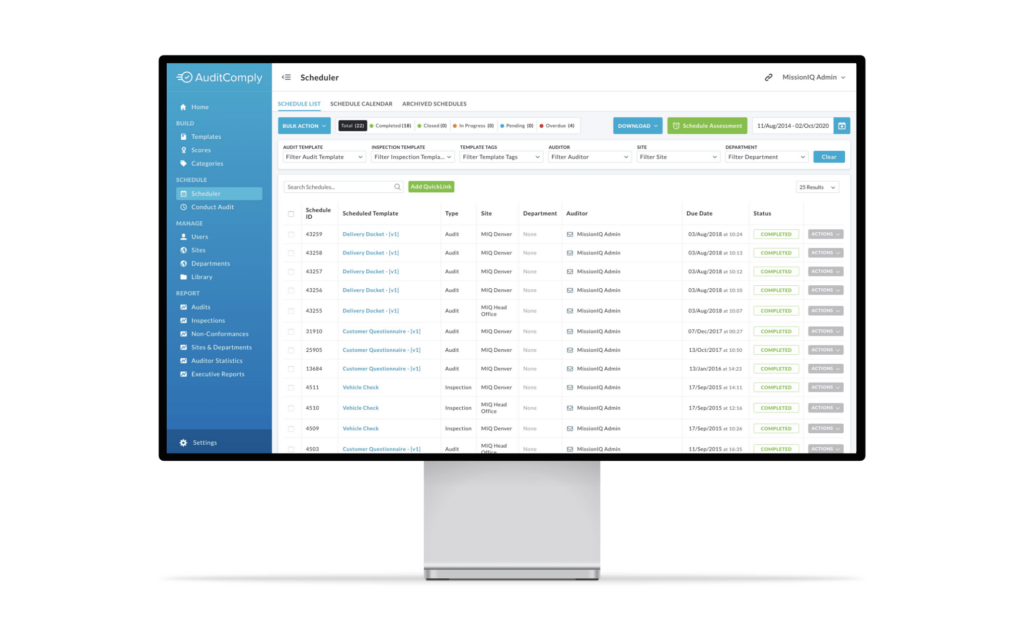 Why are we changing?
Our current platform was originally designed to help organizations digitize their audit and inspection processes. However, throughout the years, we have added an array of new features and it's become clear as our customers evolve and grow, so should we. Today, AuditComply is the heart of all GRC activities for many organizations worldwide. A versatile Enterprise Risk Management (ERM) platform that maps to internal audit processes and streamlines all GRC and issue management workflows within a smart asset management structure.
A more intuitive user experience
As you can see above, our new navigation sidebar has been sectioned into Build, Schedule, Manage and Report headings, making navigation through the system seamless! The sidebar is also collapsible to allow for more working space. Organization logos can now be seen at the top right of the system and tabs within pages have been moved to the left-hand side (directly below the page titles), all for better functionality and access. Even our new login page has been spruced up to be more vibrant and welcoming!
Note: Settings can now be found at the bottom of our new navigation bar.
Making space for the future of AuditComply
With all this said, we aren't finished yet. Our team is still working as hard as ever to implement multiple new feature requests, some that will be released very soon so keep an eye out on our blog and social media accounts for further announcements! Together, we are building the most flexible and scalable ERM platform on the market. Managing the entire GRC process within a system that embraces change and adapts to meet the daily needs of your organization, industry regulation or the competitive landscape.
You are at the heart of everything that we do
Over the last few months, we have been developing the new version of AuditComply with you. Having such close contact with our customer base has enabled us to really learn about your needs and challenges. This feedback has, and always will be, a critical part of our product development and growth.
Thank you to all of our customers who have provided us with vital insights into their risk, compliance and quality challenges, we really couldn't have done any of this without you. If you have any questions or comments about the new AuditComply layout please do not hesitate to contact us!
Click this link – that'll put you in touch with our around-the-world, around-the-clock team!