Tackling Asset-Based Risk Assessments with AuditComply
Richard Wilson
October 14, 2020
Today's business climate has only become more volatile, complex and unpredictable, creating a breeding ground for risk at every turn. Thanks partially to the see-through economy, we are witnessing a shift as organizations at both ends of the industry spectrum can be rewarded or punished, depending on their attitudes towards the Risk and Compliance function.
Risk is at the heart of most organizational activities; therefore, a key success factor for any organization is its ability to effectively manage and diversify its risk in order to achieve an optimal balance between risks and opportunity. For an organization to truly understand its risk status, they must first develop a culture where the risk assessment and reporting process can produce valuable insights in the form of well-synthesized reports for all business areas.
Asset-based risk assessments are nothing new but they're proving to be an effective way forward for Risk and Audit leaders as they work tirelessly to drive management actions, ensure reliable risk mitigation and stay ahead of emerging threats. For this reason, risk management and its relationship to asset management has been widely incorporated into industry best practices such as the ISO 55000 or ISO 27001 series of standards.
Some benefits of embracing an asset management approach to your risk management are:
Monitor the risk status of individual assets across the enterprise.
Set risk appetite, capacity & tolerance at the asset level.
Consolidate multiple asset-based risk registers into a Board Level register.
Provide a clear view of asset health for full lifecycle management.
Demonstrate risk management processes and effectiveness at the asset level.
Utilize real-time asset analytics to identify vulnerabilities and minimize disruption.
Contextualize all asset-related information.
AuditComply – Results Driven Risk Management
AuditComply provides a living, breathing risk register that consolidates all associated risk information into one, easily accessible place. Allowing your organization to build robust risk assessments that enable the identification, assessment, response, mitigation and ongoing monitoring of all organizational assets.
By implementing an integrated risk approach to detect vulnerabilities in real-time, users can determine the most critical risks and gain risk coverage by linking control updates with mitigation activities performed by the audit team.
Establishing Your Asset Register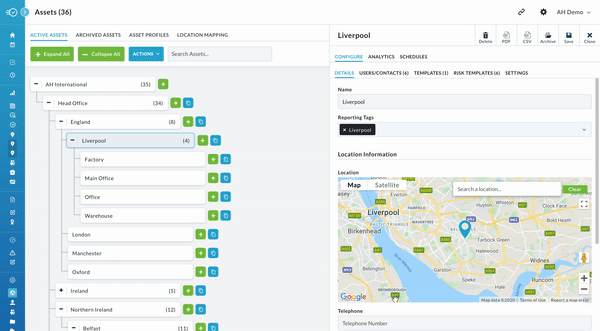 An asset-based risk assessment will start with your asset register. Each asset, tangible or intangible, should be assessed to determine the potential risk, vulnerabilities and associated controls. The result of this process is a live asset-based risk status report consisting of various data points such as a real-time risk register, top risk summaries, control matrices and more for your asset. With this information users can consolidate multiple risk registers across their asset portfolio into a board-level register, contributing to the organization's overall risk profile and appetite.
By introducing asset management capabilities users can access, record, monitor and report on risk controls and actions at all organizational levels. Whether it's a place, person, process or product, users will conduct risk assessments and report on coverage across all their auditable entities to develop efficient and effective risk-based audit plans.
Unifying Your Risk Data
Risk and Audit leaders need to address the evident and problematic disconnect between organizational objectives and delivery. With a lack of attention to defined goals and inadequate risk management processes, organizations are creating a cocktail of issues. Part of the problem can be put down to the organization's risk culture; without embedding risk awareness in the wider culture bureaucratic processes can take over and lead to a box-ticking mentality.
A study by Queens University found that organizations with risk management functions that failed to connect risk data across silos are 25% less valuable than organizations that have integrated the ERM process into both their strategic activities and everyday practices.
AuditComply aims to bridge this gap by offering a fully integrated risk management platform that connects the entire Risk and Audit process. Using configurable workflows to streamline and simplify business processes, encouraging seamless integration across business units and assets. Allowing for the interdependency and conditions associated with risk and audit activities to be captured and communicated as a collaborative effort.
To improve the quality of risk conversations, clear language, analysis and data must also be used. This means delivering measurable results and meaningful reports with different data points such as risk heat maps, top risk summaries, risk control matrices and more. Reports should be shared in real-time, providing open and transparent communication between teams, ensuring the timeliness, quality, and availability of risk data and trends. Take the complexity and administrative effort out of your risk management with AuditComply and increase the effectiveness of risk programs and collaboration with stakeholders.
Embracing a Fluid Risk Assessment Methodology
The modern risk assessment is no longer static. Your risk register should be fluid in nature, allowing you to meet the ever-changing environment in which you operate. AuditComply uses the term 'Live' risk assessments as our risk assessment methodology is a living breathing component connected to all internal and external assets and events. Making it easy to update and instrument the appropriate controls whilst monitoring and testing the controls on an ongoing basis. This also enables the ability to allocate and assign ownership of risks, actions and controls to individuals and/or business units, tracking ongoing risk status across all asset levels.
Users can create and assign action plans to control owners with one click. Organizations can manage action plans at speed and efficiency by leveraging built-in workflows. Providing instant visibility into remediation progress and automating any follow-up on outstanding reviews/issues/tasks.
Actionable Risk Reports

One of the most common complaints about risk reporting is the lack of actionable data with many systems, providing a list of risks without any further analysis. A list of risks can be useful however, when you are reporting to the decision-makers of the business, it's important to illustrate the overall impact on objectives in a cumulative way. Think more about the root cause(s) of the risk, the effects on business objectives, how pervasive throughout the organization, if there is any room to take more risk, and whether there are any opportunities for the organization if this risk occurs.
Don't forget to highlight what is working and what isn't. Not only does AuditComply provide data visualizations in the form of dashboards, charts and graphs to help illustrate program effectiveness, but it allows for the automatic benchmarking of both internal and external operations in real-time. This enables users to determine which programs are making an impact and deserve further attention, as well as how your organization's assets stack up against others, whether it's a site, department, product etc.
AuditComply continues to be a major disruptor in the world of enterprise risk management as it was recognized by the MEDICI team for integrating the entire audit process with all risk operations in one highly configurable and user-friendly platform.
Find out more with a no-obligation demo of the AuditComply Enterprise Risk Management platform.