Boeing 737 MAX: A Poor Culture of Quality Exposed
Richard Wilson
January 14, 2021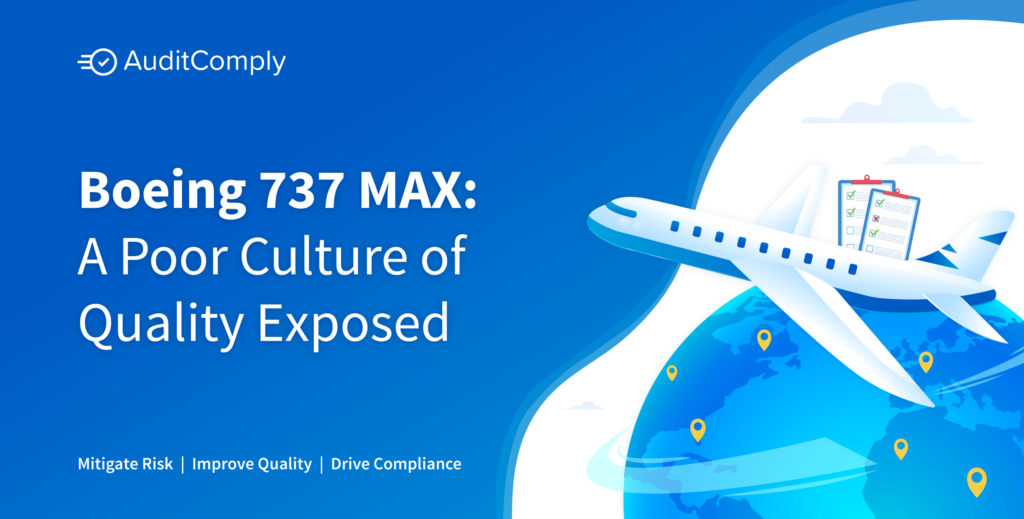 The global pandemic has hit few sectors harder than air travel. The crisis has seen travel drop, with countries closing borders and enforcing quarantine to help prevent the spread of COVID-19. This has seen the loss of thousands of jobs and billions in potential revenues. Unfortunately, there has been a knock-on effect down the supply chain, with the largest aircraft manufacturers feeling the pinch. Nonetheless, towards the end of what seemed like a disastrous year, Boeing received news that their 737 MAX aircraft has been cleared to return to the skies, with budget airline Ryanair ordering 210 new aircraft. While this is great news for Boeing they still have a lot of groundwork ahead if they are going to regain the trust of regulators and customers.
Why Was the 737 MAX a Failure? 
In 2016, Boeing was on the verge of losing an exclusive customer, American Airlines. The airline was preparing to place an order for hundreds of new aircraft from their competitor, Airbus. To compete, Boeing needed to move forward aggressively. Instead of manufacturing a whole new aircraft to compete with the Airbus A320neo, a series of upgrades were made to their existing 737 model – among them a larger and more fuel-efficient engine. The new engines were required to be placed further forward on the wing. However, the extra weight meant that during certain maneuvers, the nose of the plane would rise, which created the potential for a stall. Despite this, Boeing rushed through the design process and developed a piece of software (Maneuvering Characteristics Augmentation System (MCAS)) to counteract this quality design flaw (automatically pushing the plane's nose down) – the company never disclosed this with the FAA, airlines, or pilots.
Boeing executives truly believed they were acting in the company's best interest by minimizing the costs, ignoring the apparent risks, warning signs from employees and overall safety concerns that would eventually lead to a series of catastrophic events.
(Boeing 737 MAX, Ruth Fremson/The New York Times)
Boeing Fined $2.5bn for Fraudulent and Deceptive Conduct
Boeing has now been criminally charged with conspiracy to defraud the United States by the Department of Justice and will have to pay a $2.5 billion fine for lying to the Federal Aviation Administration before and after the fatal 737 crashes in 2018 and 2019.
The Justice Department announced the charges and fine, which were part of a deferred prosecution agreement, on Thursday. The $2.5 billion fine includes a $243.6 million "criminal monetary penalty," $1.77 billion that will be paid out to airlines that were customers of the plane, and $500 million that will go to a fund to help families and relatives of the people who died in the two crashes.
What Has Changed?
The estimated cost of the 737 MAX crisis (so far) has surpassed $18bn. Since the incident, Boeing has implemented a number of corrective actions to the aircraft. The MCAS software has been modified and now uses both AoA sensors. The MCAS now only activates once, rather than multiple times. Pilots are also provided with an "AoA disagree warning" which indicates when there is an erroneous activation of MCAS. This warning was not standard equipment at the time of the two accidents – it had to be purchased by airlines as an additional option. Pilots are also now trained on the operation of the MCAS and management of these problems, with training officially approved by the FAA.
Safety and Quality Were Continuously Compromised
In an interview with NPR, Cynthia Cole, who worked at Boeing as an engineer for 32 years, says that the company's culture initially started to shift after Boeing bought their rival McDonnell Douglas in 1997, worsening in the last decade. In fact, "greater emphasis on maximizing profits over safety caused all kinds of problems as the company developed the 787 Dreamliner, which ended up three years behind schedule and billions over budget."
The above comments from Cynthia Cole align with the evidence discovered during an investigation by the United States Congress. Revealing that Boeing operated within a "culture of concealment", prioritizing profits and speed of delivery over quality & safety. During the production of the 737 MAX, employees stated that their engagement with stakeholders was irresponsible – concealing information from pilots, failing to track equipment defects down the supply chain and engaging with regulators in an unethical manner.
While improvements to the MCAS allowed the aircraft to return, there are still concerns regarding the systemic problems within Boeing that led to these disasters in the first place. Boeing's understanding of a quality and safety first culture must improve and evolve if they're going to regain the trust of regulators, customers and flyers.
It has also been noted that the third-party inspection was less rigorous and relied on internal audits over the third-party certification; a cocktail of problems that led to a dangerous situation for all parties involved.
Unfortunately MCAS is still a software workaround for a fundamental design flaw on the 737 MAX. MCAS was originally implemented to make up for the fact the engines were too large for the aircraft, impacting the stability of the plane. MCAS doesn't fix that problem; it simply mitigates it. During the manufacturing process, risk-based thinking should have been implemented into the every stage of design process as a fundamental principle, excluding the need to add new software to accommodate a quality shortcoming. The inability to identify, assess and report this risk shows the lack of oversight during the entire process, leaving operations disconnected from real-world events – devaluing the entire Risk, Governance and Quality function. Choosing not to identify and communicate risk is the same as not managing it.
With an effective integrated risk management (IRM) system in place, organizations find it hard to ignore apparent risks. By embracing a holistic and fluid approach to risk management, risk leaders can effectively capture, identify, escalate, communicate and address risks at every level and stage of the production process; issues that would otherwise be left unidentified. The foundation of effective risk management is quantifying the identified risks, generating detailed reports and coverage that focuses attention and supports further decision making. Allowing you to align this with your organizational strategy and quickly determine which risks you can accept and which you need to action.
Whether you're designing a whole new aircraft or a new fleet of automobiles where the risk of failure results in death and litigation, you must never take shortcuts. We recommend always doubling down on your risk assessments and safety assurance to prevent further catastrophe.
About AuditComply
AuditComply is an Integrated Risk Management (IRM) platform. A cloud-based SaaS solution transforming the way organizations assess, manage & report on Risk, Compliance & Quality functions in real-time across all organizational assets.
AuditComply empowers organizations like Shell, Sysco, UKAS, Autoliv and more with one platform to ensure regulatory compliance, protect assets, drive product quality, keep employees safe & stay ahead of emerging risks.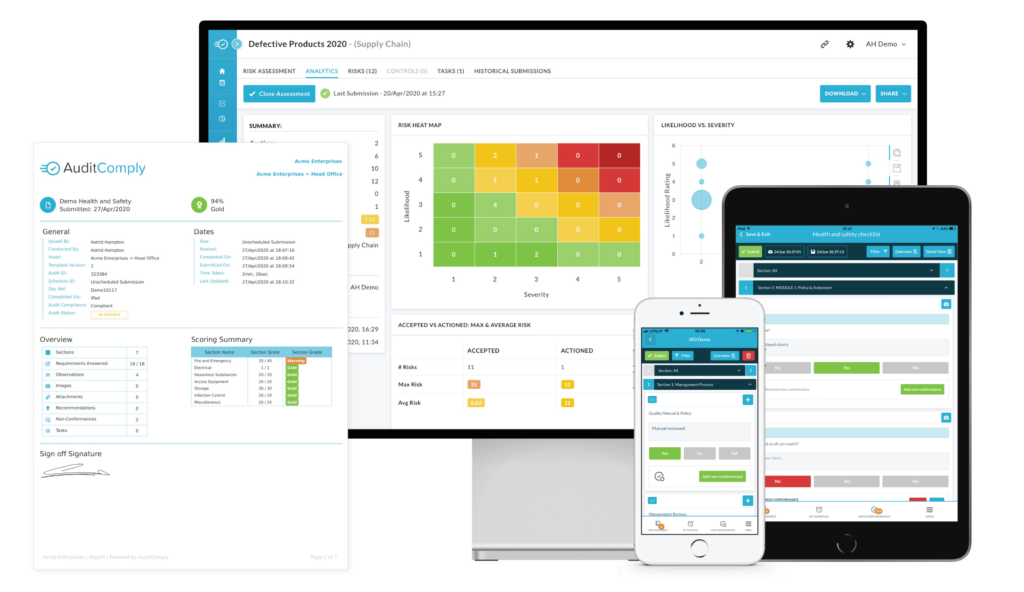 Are You Experiencing Similar Challenges?
Help us understand your challenges and we will do the rest. Demonstrating how AuditComply can maximize the value of your Risk, Quality & Compliance programs.