With advances in risk technology, insights and expertise, we are entering the golden age of risk analytics. Organizations are mining deeper and extracting more information from their growing mountains of data. Rapid innovation in GRC (Governance, Risk & Compliance) solutions is presenting opportunities to better detect, manage, understand and predict risk like never before. Using hidden insights in your data to help shape the strategic agenda and bolster competitive advantage.
Accurate risk detection is an essential ingredient to building an adaptable and resilient organization but don't expect to improve your risk detection effectiveness overnight. Your time and resource investment will be determined by the maturity of your risk program today. To help lay the foundation, AuditComply has listed three ways you can quickly improve your risk detection program with minimal investment.
Introduce Risk Technology to Distinguish "Signal" From "The Noise"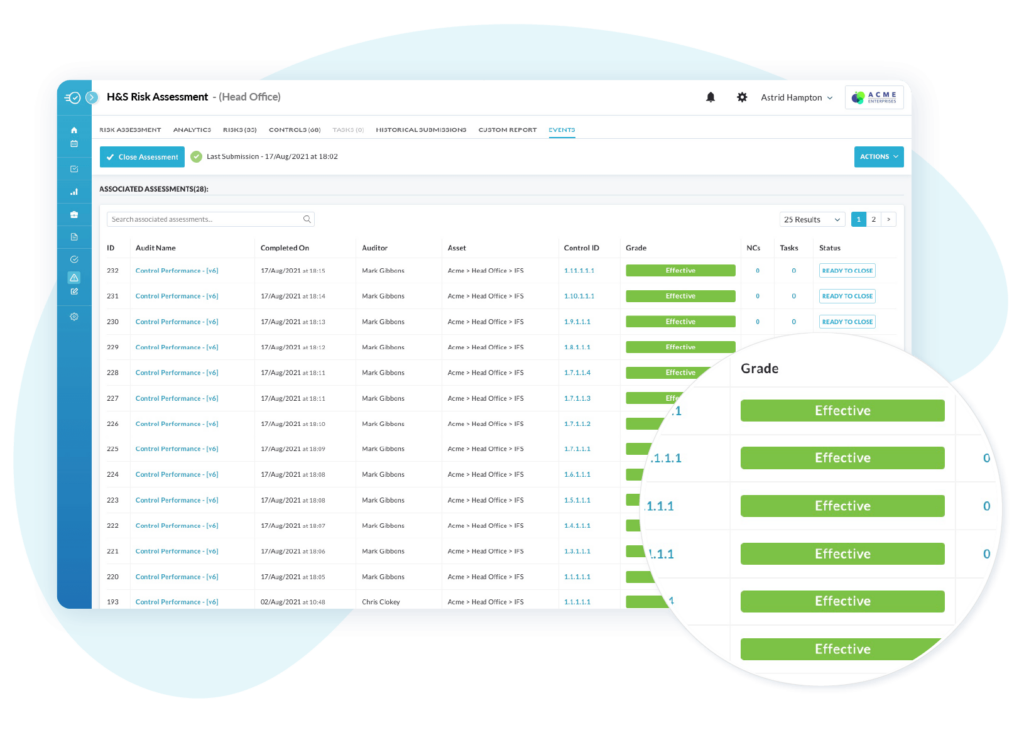 AuditComply Risk Assessment Event Listeners
The return on investment for Risk Management solutions, amongst other measurements, is the ability to cut through the "Noise" and better understand the "Signals". Using your increasingly large data sets to explore trending incidents and events that trigger risk alerts. To do this effectively requires a live feedback loop from all corners of your organization and any events likely to influence your risk status or lead to a breach in risk appetite. From onboarding new suppliers to manufacturing-related quality issues on the road to market. You need to filter out more noise (the false positives) which in turn will lead to the creation of better risk assessments/scores and provide greater predictive power than antiquated detection methods.
AuditComply's Risk Hub builds a bridge to the heart of your Audit engine and other GRC functions, automating the communication, scanning and listening of organizational events in real-time. Configurable review and approval workflows enable Risk teams to respond quickly and review events pertaining to their function at the click of a button. Leadership teams are no longer blinded by mass data but can receive easy-to-consume reports and visualize performance as it occurs. As more data is captured and risks are better understood, AuditComply customers see a material improvement in their signal-to-noise ratio, confident they are assigning the right resources to the right detection programs. All leading to a better understanding of present and future disruption, ensuring resilience for years to come.
Leading Canadian Manufacturer Aligns Audit Activities With Evolving Risks
There was a desire to introduce a fully automated platform that provided real-time oversight, promoted real-time connectivity and improved efficiencies across their EHS, internal and third party compliance and product quality programs.
2. Connect the Dots With Advanced Risk Analytics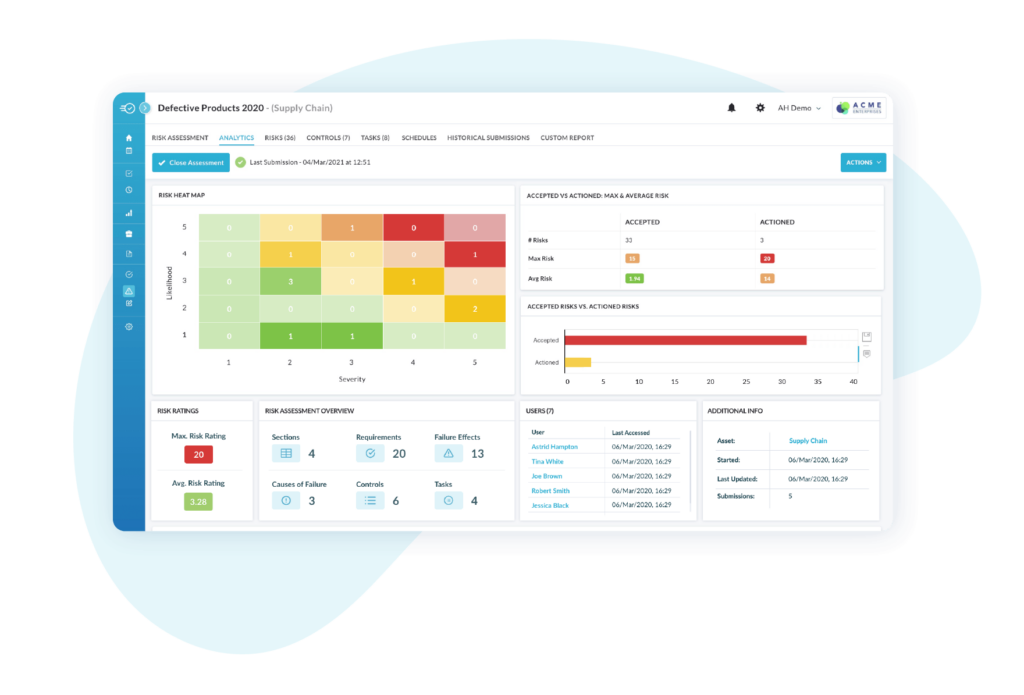 AuditComply Risk Hub Home Dashboard
Risk analytics provide a baseline for measuring risk across the organization, tracking thousands of metrics and merging structured and unstructured data into one unified easy-to-consume hub. Making it easy to digest and offering leadership clarity when they need it the most. The advanced analytics approach to risk monitoring is about 'connecting the dots' from many sources of data in a way that is comprehensive and cost effective. Advanced analytics will take the guesswork out of detection and the managing risk-related issues. Using a range of techniques to extrapolate data, reveal new relationships/trends and predict future events.
3. Improve Control Effectiveness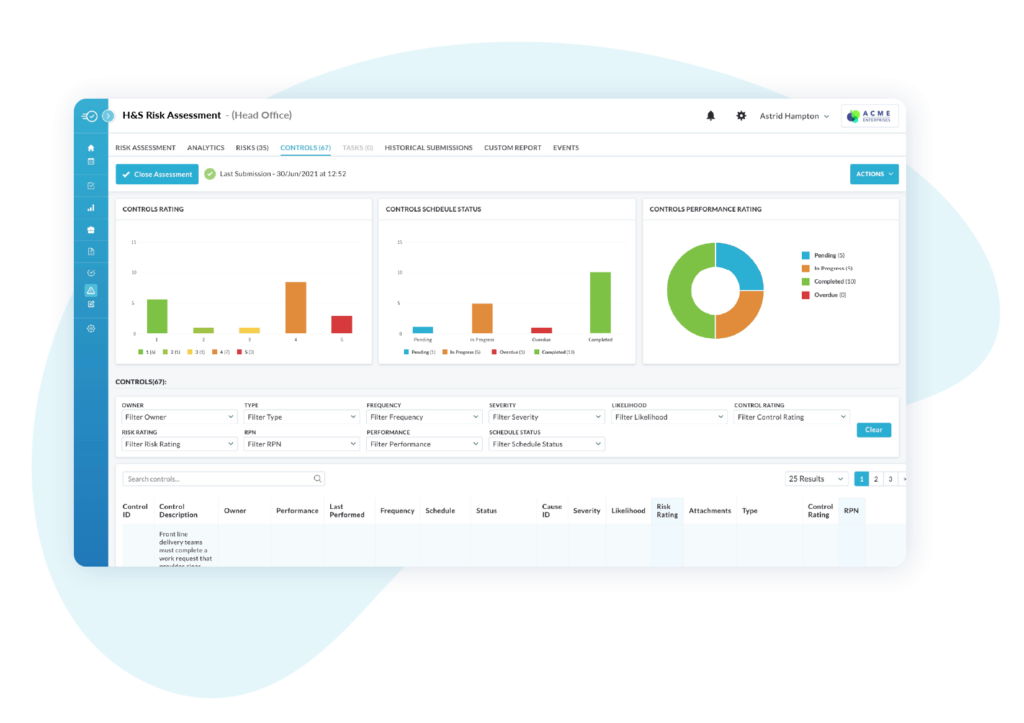 AuditComply Risk Hub Control Performance Dashboard
Talking to many teams about their internal control program, you might hear "We have a good control system in place, a data breach/supply chain disruption or fraud is not possible here". Sure, your controls may appear insurmountable at first, but like any defense, they have their weaknesses and your achilles heel could be anything, for example, a global pandemic.
Improving the effectiveness of your controls will lead to more focused risk detection efforts. If your team is confident the controls in place are highly effective, you can focus on managing the inherent risks threatening your organization. However, to really improve your defence you should also look towards increasing focus on control specificity. On-going control review and assessments are also vitally important. Unfortunately, many control assessments fail to evaluate the effectiveness of each relevant control and don't determine whether the controls have been implemented as designed. Worse, some auditors will stop their assessment after determining the control exists. With AuditComply's Risk Hub, customers have access to a comprehensive controls library. From there, users understand control performance in real-time. If a control is no longer performing, actions can be taken to ensure residual risk is being managed and mitigated as it occurs. Ensuring regular residual risk assessments are conducted alongside inherent risk identification.
Embrace the 'Golden Age' of Risk Management with AuditComply
AuditComply is an Enterprise Risk & Audit Management platform. A cloud-based SaaS solution providing market leading GRC solutions, expertise & insights you need to navigate complex regulations, avoid disruptions and build a more risk-intelligent enterprise.
Want to learn more? Request a Demo to learn more about how AuditComply can help you manage and maintain your GRC environment.
About AuditComply
AuditComply is a leading Enterprise Audit & Risk Management platform accelerating GRC and digital transformation for enterprises.
Trusted by the world's largest Fortune 100 companies and used by thousands of users across the globe. AuditComply provides a flexible, easy-to-use solution to actively manage Risk, Compliance & Quality programs to the highest GRC standards. Using real-time insights to navigate complex regulations, avoid disruptions and build a more risk intelligent enterprise.
Assess By Audit, Report By Risk