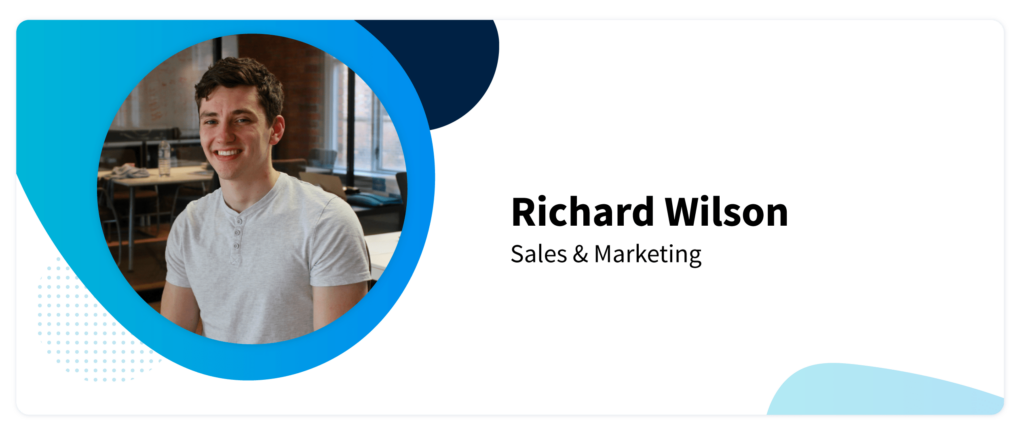 Welcome to our blog series where we feature one-to-one interviews with members of our talented team. Sit down, relax and take a minute to learn more about what life is really like here at AuditComply. Explore the twists and turns of each unique journey and what they value most about their impact on our company and customers.
Job role: Marketing Manager
Time with AuditComply: 4 Years 7 Months
How would you describe AuditComply in three words?: "Innovative, Customer Obsessed, Passionate"
What brought you to AuditComply? What motivated you to apply for the position? What has kept you here?
"My journey actually started at SaltDNA, the sister company of AuditComply, I joined as a Marketing Executive as part of my placement for University. During this period AuditComply was expanding and the opportunity to join their Sales & Marketing was offered. I didn't hesitate, the customer feedback was phenomenal, they loved it. Big players in the market were using the platform every day, there was real usage, a real demand. I realized this could be the silver bullet, the solution to a lot of sleepless nights and stress for our users. I could tell this was a company that deeply cared about their product and the value it brought. Since joining AuditComply, the team has been nothing but supportive."
What excites you most about working at AuditComply?
"Two things – the people and the vision. You'll see a common theme across all the employee spotlights, everyone will make reference to how great the team is. I hope! It's one of the best things about AuditComply. I've had experience in previous positions including a short stint at one of the 'Big Four', it's like night and day. AuditComply is team-oriented, innovative, fun, hard-working and very diverse. There's no egos here. We are an inclusive company that values each member, promotes the sharing of ideas and is one of the most collaborative teams I've been a part of, from Sales and Marketing to Product and Engineering. AuditComply is leading a positive change for thousands of teams across the world, something I'm proud to be at the frontline of."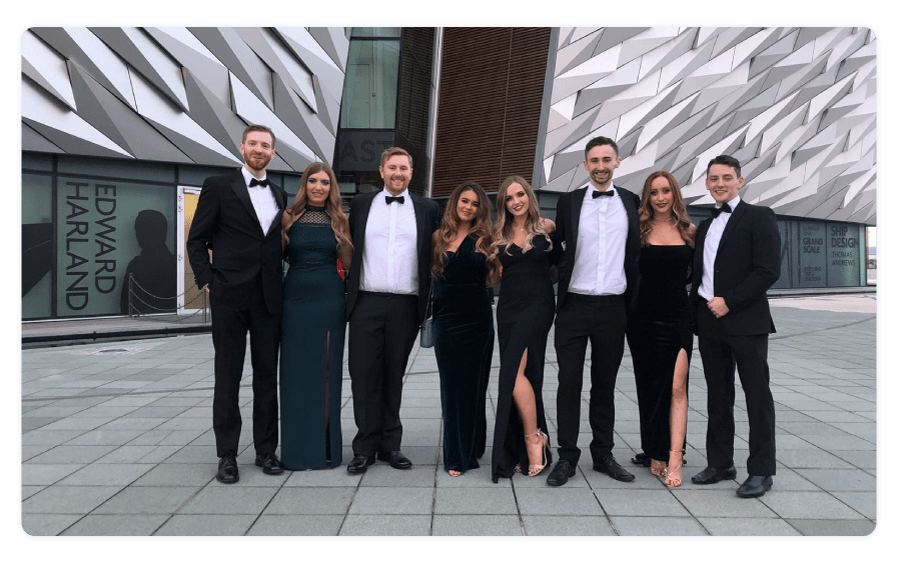 What has been your biggest accomplishment since you joined?
"To be honest, we're always available to help the greater good of the business. Rarely is anything an individual win. Saying that, big accomplishments for me usually originate from our customer acquisition. Successfully educating teams on the benefits and opportunities AuditComply can bring. At a very basic level, AuditComply removes the stress and late nights that comes with GRC management but we always take it to the next level, transforming their data into actionable intelligence, bringing opportunities in a number of ways. I'm proud to say we've successfully introduced AuditComply to thousands of teams in all corners of the globe, from Food & Beverage to Oil & Gas. Not to mention our 98% retention rate, we love our customers!"
What has your experience been like with AuditComply's culture?
"We're well rewarded for our hard work, it's a fun and selfless environment where we can be our most creative and innovative selves. We've developed a culture most companies would pay through the roof for."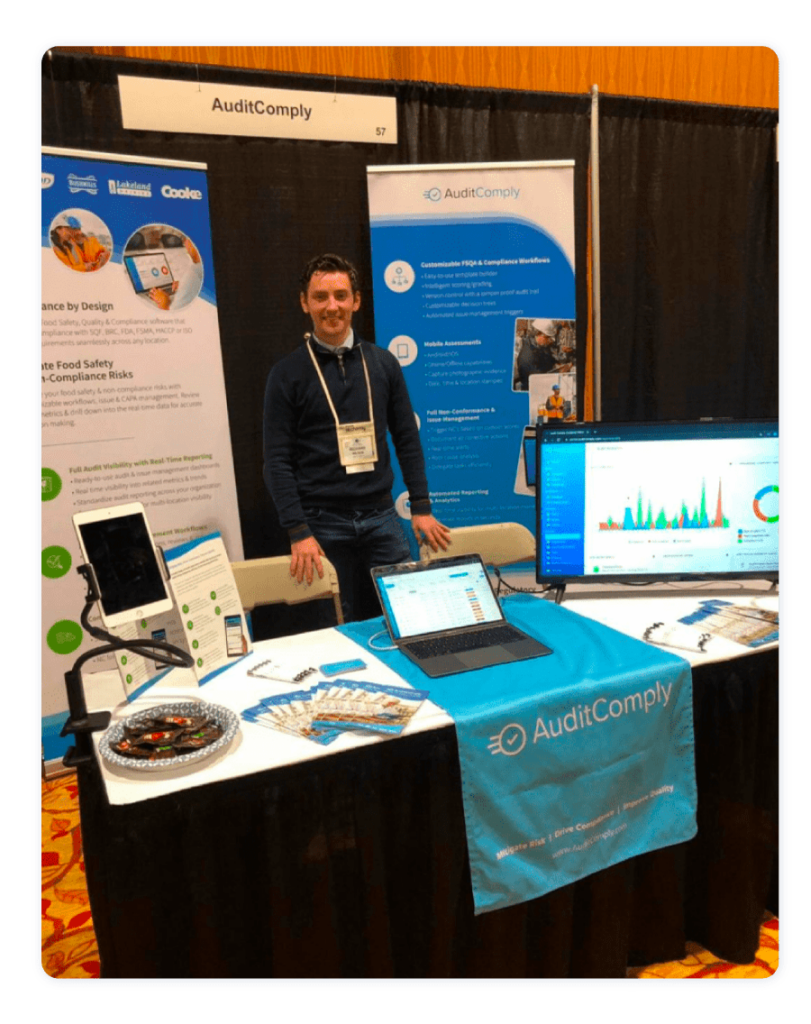 What parts of AuditComply's mission do you connect with most?
"Look at the world today, we live in such a tough, challenging and uncertain time. It's unstable. Disruption, negative press or worse is constantly lurking around the corner. Cancel culture is also very real and doesn't just impact individuals, your brand will always be at risk. Without the adequate resources, tools and knowledge an organization can be days, sometimes even hours away from an adverse event. We're not only about making our user's life easier, it's about providing the right intelligence and capturing the right data to ensure resilience in the face of any adversity. AuditComply lives and breathes this."
What are your favourite perks / benefits?
"That's a tough one, aside from the team events, dinners and outings, hybrid work environment or even the bring your dog to work, I'd have to say for me, the travel opportunities and investment in education. With AuditComply you're given the chance to visit new countries and experience new cultures. We also have access to mentoring, paid degrees and membership to professional bodies."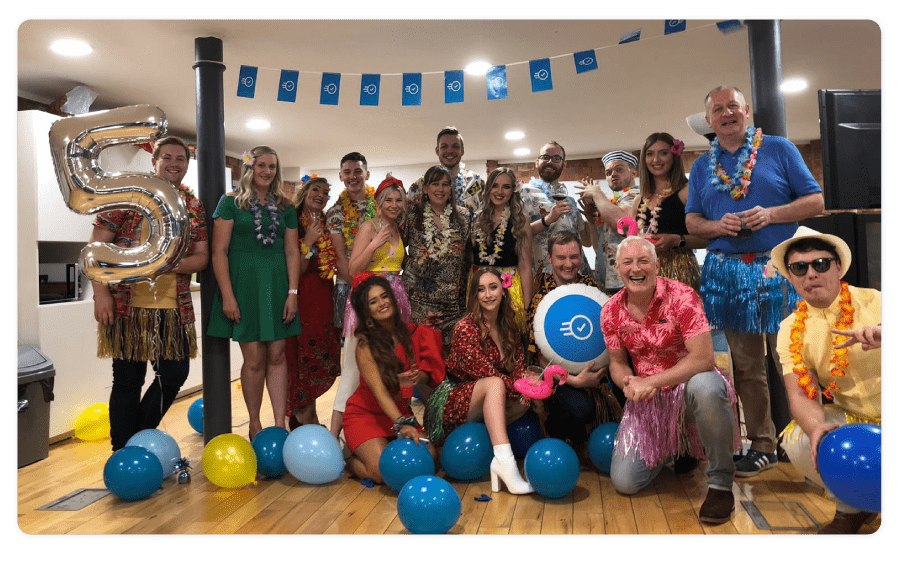 How have you grown professionally since joining the team?
"From joining as an intern to influencing the direction of the Sales & Marketing strategy, from campaign generation and customer engagement to product roadmap, I've learned so much. Susan and Kevin have been very hands on and they've both been fantastic mentors, each with their own way of operating but both of equal value. I've always been encouraged to fail fast, learn quickly."
How would your family or friends describe you in three words?
Ambitious, Driven, Creative
What would you do (career-wise) if you weren't in your current role?
"Maybe something in Architecture – it seems like such interesting and creative work. Architects have a unique relationship to the cities they live in and buildings they visit. They can appreciate certain spaces on a much deeper level. It's very similar to marketing in that sense – to have a passion and understand the true value of your product, service and people, on a much deeper level. Similar to an Architect, as a marketer you're not just selling a product or service, you're guaranteeing a better way of life."
What do you like to do in your free time?
"I'm a very activity/sports oriented person. So in my free time I'm usually playing football, or watching football, swimming, in the gym, practicing yoga, running and so on. Outside of that I like to read, spend time with friends, travel and when I'm really disciplined, I'll use my spare time to learn something new."
If you could meet anyone, living or dead, who would you meet?
"Nikola Tesla, he just seemed like a guy you'd want to get to know, somebody you'd want to hang out with. He once paid an overdue hotel bill with a model of his 'Death Beam', warning staff never to open it. I couldn't tell you how that went for him though."
If you could say one thing about AuditComply to someone thinking about joining the team what would it be?
"AuditComply provides endless opportunities to directly impact strategy, product & roadmap, to learn and innovate. It's rare to be at the frontline of a company that's truly transforming the lives of its users. Jump in with both feet."
If you're passionate about helping teams thrive and are excited by the opportunity to make a big impact at a fast growing company we'd love to talk to you! Apply today to join Richard on our Sales & Marketing team, or check out our open roles.