AuditComply Voices: Meet Aaron McPoland
Aimee Lyttle
August 3, 2022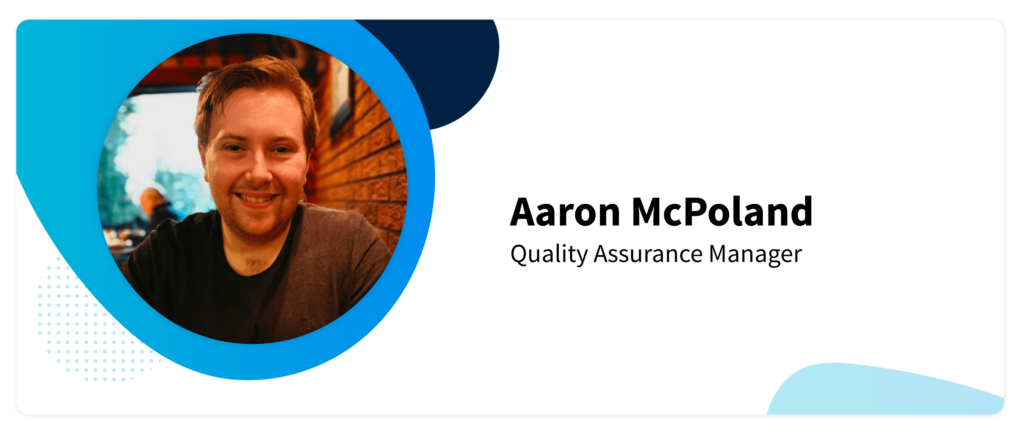 Welcome to our blog series where we feature one-to-one interviews with members of our talented team. Sit down, relax and take a minute to learn more about what life is really like here at AuditComply. Explore the twists and turns of each unique journey and what they value most about their impact on our company and customers.
Meet Aaron McPoland, part of our Quality Assurance team in Belfast.
Learn more about his career journey with AuditComply & how his contribution inspires customer confidence and trust.
Job role: Quality Assurance Manager
Time with AuditComply: 4 years
How would you describe AuditComply in three words?
"Motivating, Collaborative, Lively"
What brought you to AuditComply? What motivated you to apply for the position?
"I joined AuditComply as an intern during my placement year at University. What drew me to AuditComply was the small team but after being in the company a couple of weeks I realized that the product was huge, and everyone in the company was fully committed to its mission. When I was offered to stay on after my internship had ended, I jumped at the chance."
What excites you most about working at AuditComply?
"Where the product is going. After being here for 4+ years it's hard not to notice how well the product is doing and rapidly expanding in the last 2 years alone."
What has been your biggest accomplishment since you joined?
"My biggest personal accomplishment would be leading the QA department. A year ago I was made the QA manager for AuditComply. I can see a lot of changes within the department, notably the bigger emphasis being put on the automation of test cases."
What has your experience been like with AuditComply's culture?
"The culture at AuditComply is next to none. The whole office gets involved in organizing events, game nights, hikes, or even just casual drinks after work. When you're in the office, there's always a conversation to be a part of and everyone gets on with each other."
What parts of AuditComply's mission do you connect with most?
"I connect with how much AuditComply is willing to learn from our clients. We are consistently taking in feedback and requests and working together with our clients to deliver powerful and impactful features and flows."
What are your favourite perks / benefits?
"All of AuditComply's perks are great. From Perkbox which gives you discounts in a large range of shops, to healthcare with Vitality, but my favorite one would be the flexible working hours. We are able to start any time between 8am and 10am. Although Dogs allowed in the office is very close 2nd."
How have you grown professionally since joining the team?
"I think I have grown a lot since joining, although the area I have grown the most in is my confidence. This doesn't mean that I do everything right, but that AuditComply has a supportive environment where I'm not afraid to ask questions or challenge a decision and every concern is talked about."
How would your family or friends describe you in three words?
"Funny, Caring, Considerate"
What would you do (career-wise) if you weren't in your current role?
"I would love to be an Artist. I think it would be such a therapeutic job. Now I just need to move past drawing stick figures."
What do you like to do in your free time?
"My free time is mainly spent with my dog Lilo, a Samoyed/Collie mix, taking her for a walk and cleaning up whatever she's destroyed that day. I also enjoy paddle boarding which I try to get out on at least once a week as I live only 5 minutes away from Lough Neagh."
If you could meet anyone, living or dead, who would you meet?
"I would love to meet Billy Connolly, his outlook on life is amazing and I imagine he has some amazing stories to tell."
How would you sum up your experience with AuditComply?
"We're all in this together" – Troy Bolton 2008″