Managing the Food Labor Crisis with Technology
Richard Wilson
August 4, 2022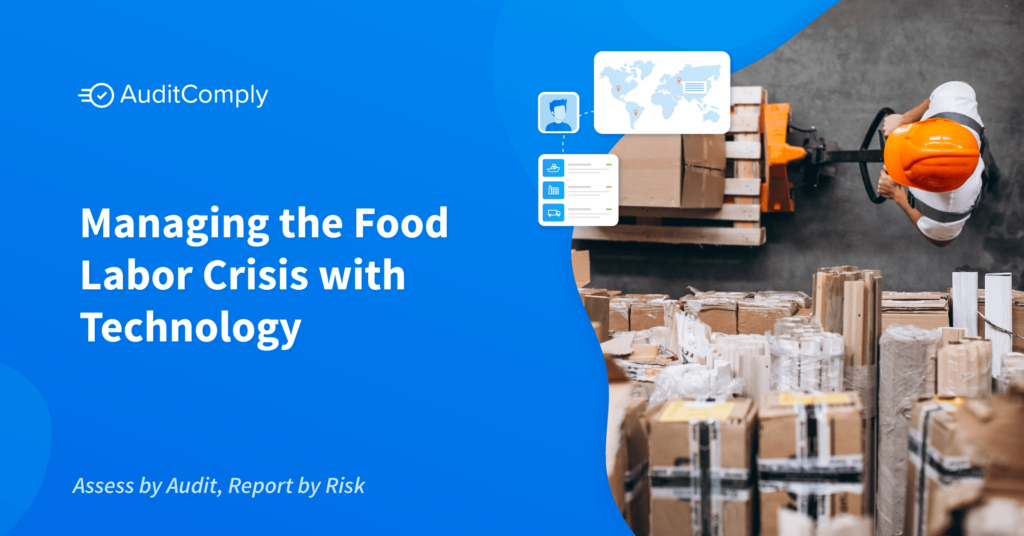 The Food Labor Crisis
Empty factory floors, logistical nightmares and empty shelves. The consequences of the global food labor shortages have had far reaching effects.
Until recently, many complaints from food manufacturers about labor shortages were linked to specific events, Brexit, COVID-19 or climate change. While these issues still contribute to difficulties in staffing levels, something more fundamental is occurring. We haven't seen labor numbers stabilize as they were expected to as the industry emerges from the pandemic. When you combine this with record high job openings and increasing demand, the pressure is being ramped up on the food industry. This is evident through the whopping 1.5 million jobs that need to be filled to reach pre-pandemic levels.
According to the latest research by Deloitte and The Manufacturing Institute, 2.1 million manufacturing jobs are likely to go unfilled through to 2030, severely impacting U.S Food company revenues to the tune of $1 trillion. Additionally, a reported 3.6 billion baby boomers are expected to exit the manufacturing industry in 2030. As they retire, this will further exacerbate the labor crisis.
As demand increases and forecasts worsen, AuditComply will endeavor to support Food & Beverage organizations during the current labor crisis and beyond. Through our modern technologies we can offer you solutions that will help you attract, engage and retain staff.
Lamenting Labor Force
In order to address the labor shortage, it's important to first understand what has made food manufacturing an undesirable career choice for workers. Some of the key feedback captured during exit interviews by staff last year include:
– Overwork and stress
– A feeling of being trapped in their jobs with no potential for advancement
– Old technology or outdated equipment 
– Outdated processes
– Safety concerns, especially during the pandemic 
To address these issues, organizations have resorted to providing perks, bonuses, increased wages and better benefits. Many of these strategies fail to evaluate the root cause of these concerns – working conditions, internal processes, training and ways of working. If the traditional approach is failing us, where should we look?
People Processes and Technology
A happy and successful workplace in 2022 relies on the evolution of PPT (People, Processes & Technology). At any given moment, your organization will have multiple functions working together, from Food Safety & Quality to EHS, ESG, IT & Regulatory. Cohesion between your organization's people, processes and technology will ensure the success of:
– Product Quality & Safety
– Quality Management 
– Receiving, Suppliers and Shipping
– First, Second & Third-Party Audits
– Compliance with Regulations
– Maximizing throughput 
– Data management
The range of roles and responsibilities mean that your workforce needs to be knowledgeable, well trained and equipped with the right tools to ensure quality, maintain compliance and mitigate unplanned downtime.
Attracting Labor With a GRC Management Platform

With modern technology, you can expect to attract more experienced workers, giving your organization a competitive edge. AuditComply is a Food & Beverage GRC Management platform. Our platform is intertwined with every layer of your Food Organization, from the factory floor to the boardroom. GRC Management software harnesses everyday hardware such as smartphones and tablets, reducing the turnaround time when onboarding and training new employees. Modern technology will also automate processes and mundane tasks, freeing up time. Employees can do more value added activities or allow for more free time, improving their overall work life balance.

Engage & Retain
Your workforce already recognises the importance of specialized skills in an increasingly digital world; likely concerned about their own personal development and ability to apply themselves in future roles. By introducing technology, this investment in the team will not go unnoticed, making each employee feel valued as a result of your willingness to invest in their future. The promise of digital skills training in industry 4.0 will help engage and retain talent at every level, helping those launch their technology-centric careers.
Training & Digital Development
GRC Management platforms also help to encourage cross-training. Ensuring your organization will have a workforce that can easily and quickly fill open positions without the need for temporary cover. Having a workforce trained in a range of skills can also help cover periods of high demands. Cross-training can also help improve employee retention by offering a career path, community, safety, and a sense of value and structure. Training and development opportunities that come with new innovative software will help employees feel seen and heard, encouraging them to pursue fulfilling careers within your business.
Improve Communications
GRC Management Software will de-silo your departments and encourage engagement across all areas of your organization. Better communications will improve teamwork and efficiency which will allow your organization to maximize productivity, leading to increased job satisfaction.
Increased Flexibility
Automated processes and cloud-based programs allow for increased flexibility at a time when work / life are big priorities to employees. With AuditComply, everyone can see the performance of their area whether at home, in the office or out on the factory floor. Audit findings are shared in real-time. No longer are employees required to go back and forth from the office and spend time collecting evidence to report back to leadership. Everyone can capture, view and report instantly without eating into staff downtime.
Do more with less through AuditComply
"It's all about how do you do more with less people and finding that way," says Roy Johnson, business strategist with Black and Veatch.
GRC Management software will allow your Food organization to do just that. If you currently have a limited workforce and you are interested in finding out how you can do more with less, AuditComply will provide an immediate ROI for your Food & Beverage organization.
Lower Cost & Training Time
AuditComply prides itself on its ease-of-use, requiring limited training and getting your teams up and running in a matter of seconds.
Be Audit Ready & Comply Without the Paperwork
Remove the administrative nightmare with a highly configurable platform for planning, monitoring & documenting BRC, GFSI certifications, HACCP, GMP and ISO.
Reduce Issue Resolution Time By 85%
This can be achieved by automating and streamlining the issue identification, follow-up, and reporting process.
Prevent Rogue Supplier Spending
Choose your suppliers effectively and simplify claimback management by reporting issues directly to your suppliers & distributors to recoup costs faster.
Protect Your Customers & Your Business
Collect critical food safety & quality data on any device, instantly pinpointing problem areas to track & report on issues in real-time.
Request your demo of AuditComply's Food & Beverage GRC Management platform, the ultimate defense for any Food Manufacturer.
Find out why AuditComply has grown to become the chosen Food & Beverage GRC platform for companies here in Ireland, the United Kingdom and North America. Providing a single solution for Risk, Compliance, FSQA and Supplier Management.