AuditComply Voices: Meet Sarah Robinson
Richard Wilson
September 29, 2022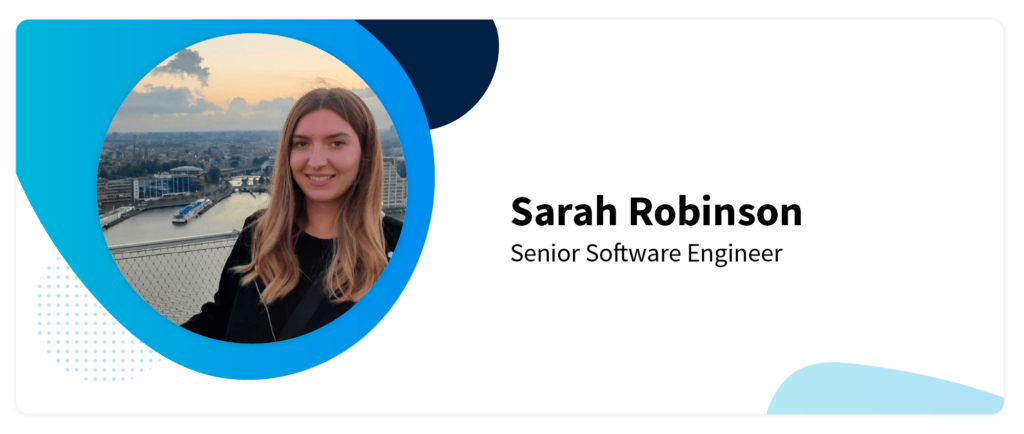 Welcome to our blog series where we feature one-to-one interviews with members of our talented team. Sit down, relax and take a minute to learn more about what life is really like here at AuditComply. Explore the twists and turns of each unique journey and what they value most about their impact on our company and customers.
Meet Sarah Robinson, our Senior Software Engineer in Belfast.
Read more about Sarah and her career journey with AuditComply to find out how she contributes to shaping the solutions that benefit our customers.
Job Role: Senior Software Engineer
Time with AuditComply: 7 years 4 months
How would you describe AuditComply in three words?
"Social, Fast-paced, Innovative."
What brought you to AuditComply? What encouraged you to apply for the position?
"I was studying Computer Science at Magee University and had to find a placement role for my third year. After applying for what felt like all of the placement opportunities in my area and not having any luck, I decided to do a google search for web development companies in Belfast and sent out my cover letter to those that appealed to me. AuditComply reached out and offered me an interview, which to my delight led to a placement opportunity, and then a full-time position."
What excites you about working at AuditComply?
"Both the opportunities and the people (and the office dogs). Getting to work at the forefront of the system every day, be involved in important decisions and seeing my work move to production and be used by customers is all very exciting and rewarding."
What has been your biggest accomplishment since you joined?
"I think going from a placement student to a Senior Software Engineer is a massive accomplishment in itself for me. I didn't have much technical knowledge or confidence in my abilities when I started. Coinciding with that, is having implemented multiple features of the system which are used by customers every day. Not to mention, winning best halloween costume as Auntie Mabel was also a proud moment!"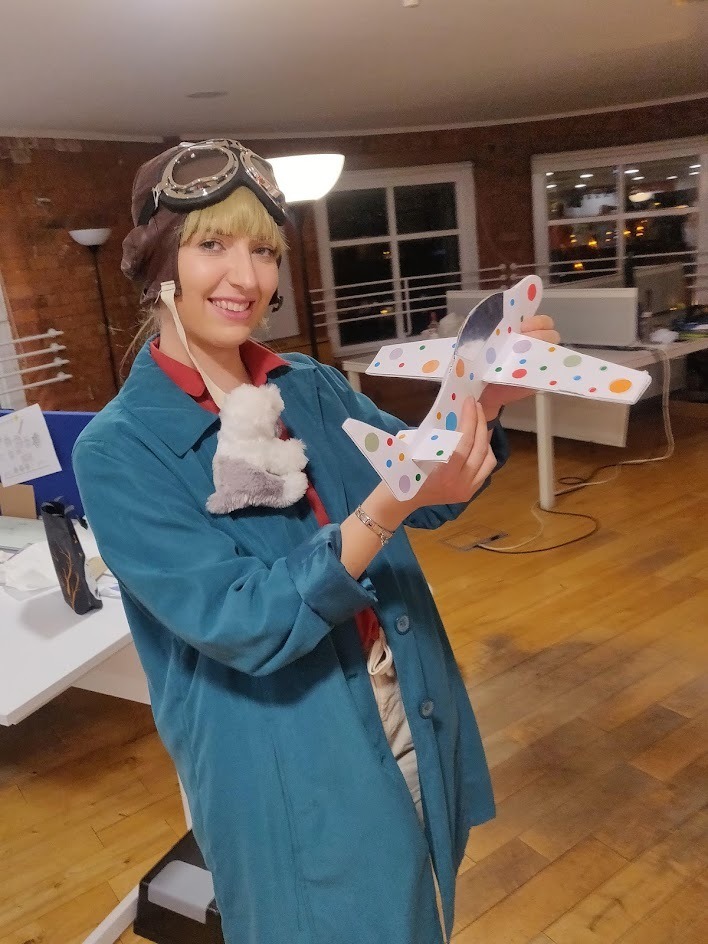 What has your experience been like with AuditComply's culture?
"Definitely a positive one. Everyone plays an important role, has the opportunity to contribute massively to the product and is trusted with the work that they are given. Whilst everyone is always busy, the office still maintains a relaxed atmosphere in that we can have a good laugh, go for a coffee, or pet whichever office dog graces us with their presence that day. The team is also very social outside of working hours and we often have fun events both in and outside of the office."
What parts of our mission do you connect most with?
"I love nature and care about the environment, so encouraging companies to go paperless with their auditing is important to me. Also the fact that we are helping people to do their jobs more efficiently, and how willing we are to listen to customer feedback and take it on board."
What are your favourite perks/benefits?
"Flexible working hours where we can work from 8-10 until 4-6 is definitely a top perk. Health insurance is also a great one along with free coffees, discounts through Perkbox, a dog-friendly office, and a hybrid working environment. Oh and the office teapot – there is always someone making tea!"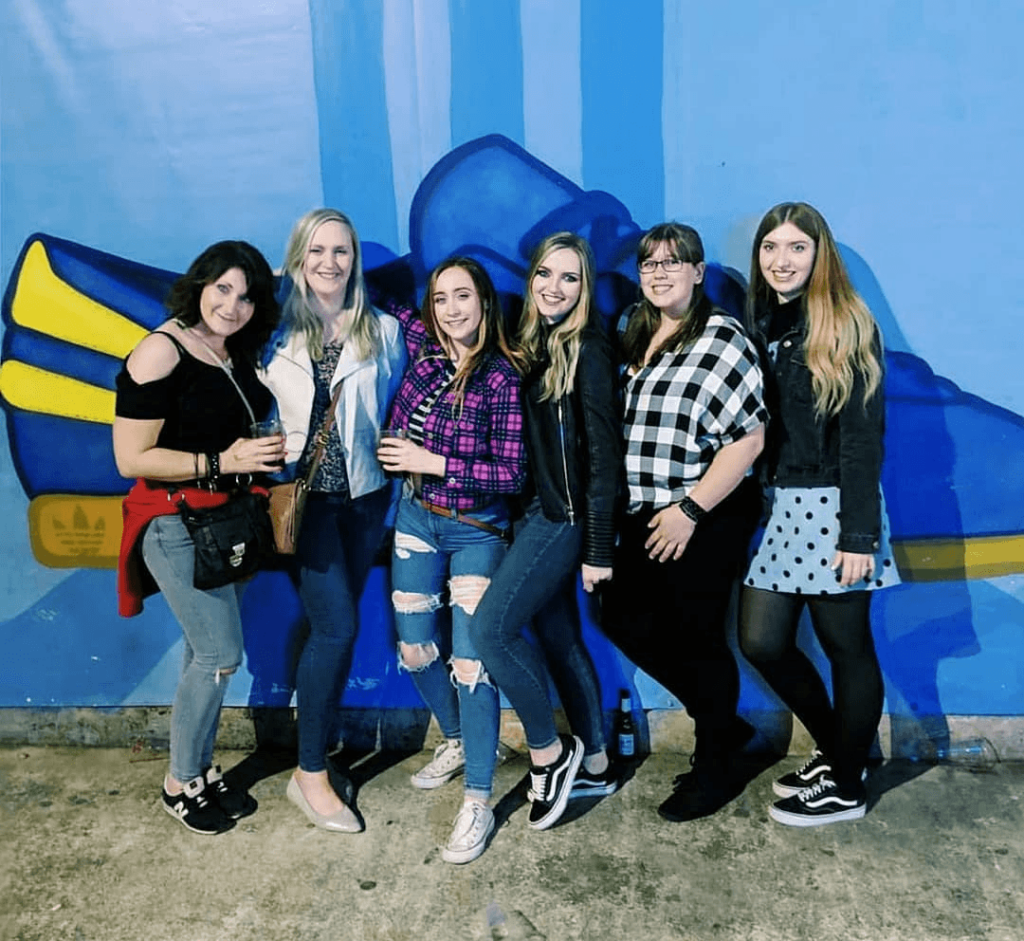 How have you grown professionally since joining the team?
"Both my technical and people skills have developed massively. Getting to work on so many areas of the product means learning lots of different technologies and skills, and having to discuss ideas, demo work and speak with customers has increased my confidence in my own opinions and my public speaking ability."
How would your family or friends describe you in three words?
"Compassionate, Determined, Perfectionist."
What would you do (career-wise) if you weren't in your current role?
"I was very close to studying a multimedia course at uni with the hopes of leading me down the path of photography or videography – so probably something in that realm."
What do you like to do in your free time?
"I like going for walks, especially in the countryside or coastal with a good view – I'll never say no to a sunset walk! I live with my fiance, our dog Nala and two cats Kovu and Simba. I spend a lot of time with them whether it be walking the dog (and cats if they decide to join) or taking countless pet photos. I also love going to concerts and have two guitars which I occasionally attempt to play – I used to take lessons but would love to take it up properly again soon."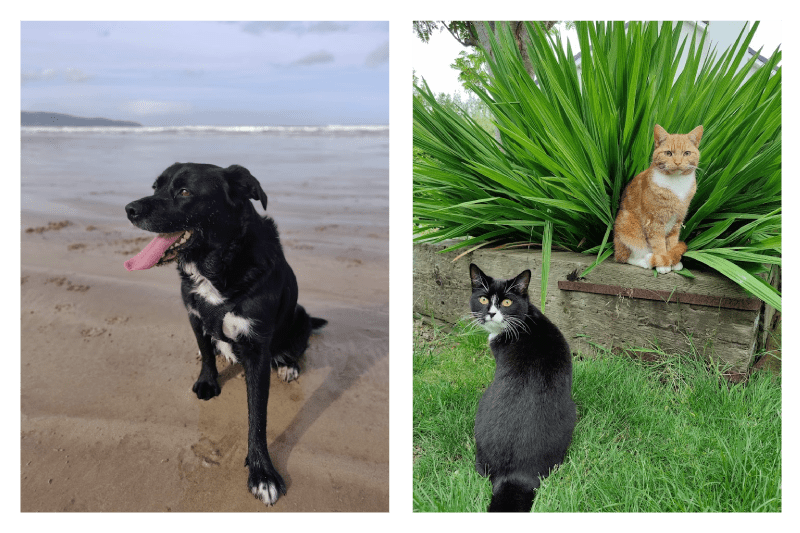 If you could meet anyone, living or dead, who would you meet?
"There's a lot of options to pick from! I would love to meet my mum's parents who died before I was born. I also think it would be great to meet David Attenborough! Hearing about his wildlife experiences first-hand would be so interesting. I would even be keen for an evening with some of the world's greatest musicians – Jimi Hendrix, Elvis Presley, Freddie Mercury, Dave Grohl, John Mayer, and Jim Adkins to name a few!"
How would you sum up your experience with AuditComply?
"7 years of fun, friendship and feature development."
If you are passionate about helping teams thrive and are excited by the opportunity to make a big impact at a fast growing company, we'd love to talk to you! Check out our open roles and apply today.