HSE, AuditComply & Costain Group Partner to Discuss Compliance Automation
Aimee Lyttle
November 24, 2022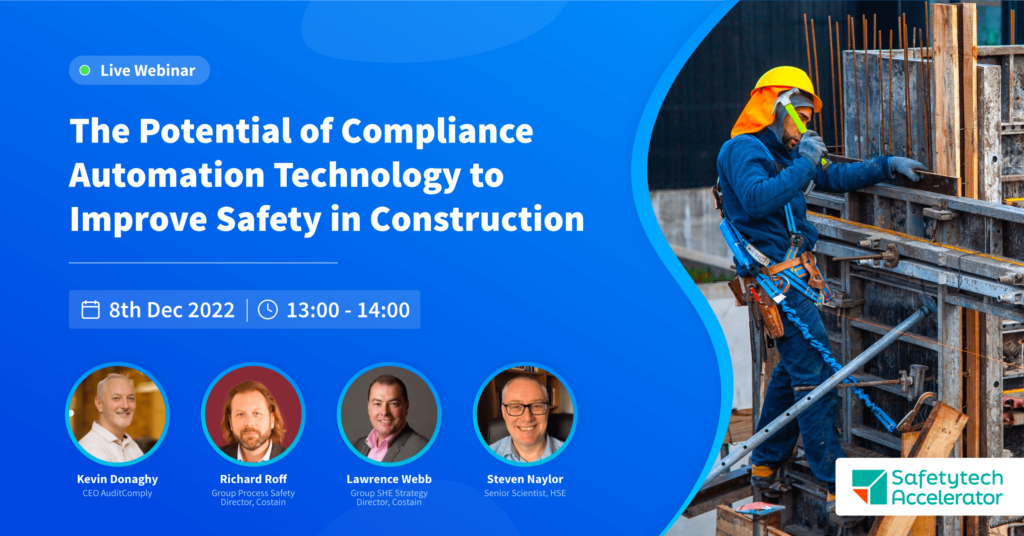 The past 15 years have seen a huge jump in the emergence of new technology in all aspects of life and work. Industry 4.0 has brought us improved IoT (Internet of Things), cloud computing, analytics and AI. Advancements leading to more automation, optimization of processes, and predictive maintenance of software are encouraging unparalleled efficiency throughout most industries. The plethora of challenges brought about by the Covid-19 pandemic has further catapulted businesses' use of new technology at an unprecedented rate, with the introduction of compliance automation, and the construction industry has been no exception.
Technology is providing organizations with workflow capabilities related to compliance, such as self-assessments, control analyses, corrective action planning and controls testing. By automating these processes, compliance automation has been shown to replace the need for manual checks and reduce errors across complex organizations.
Safetytech Accelerator have made it their mission to explore how old and new technologies can be transferred or repurposed across business sectors, to improve safety and reduce risk, particularly in those industries that are safety-critical. AuditComply will be working with Safetytech Accelerator on this particular event, joined by the UK Health & Safety Executive and other speakers from the industrial construction sector. AuditComply CEO, Kevin Donaghy, will be joining the panel to discuss how technology can help automate compliance in construction to improve safety. Kevin has led teams and companies across the globe, from the earliest stages of development, through commercialization and hyper-growth phases.
Panelists will explore the challenges, barriers and benefits to using automated compliance in construction, what automated compliance on construction sites looks like at present, the 'compliance-tech' market and how tech can automate compliance, as well as delving into a real ongoing project to see how this looks in real life.
Secure a place on the webinar today to gain insightful industry knowledge from the array of speakers including Richard Roff (Group Process Safety Director, Costain), Lawrence Webb (Group SHE Strategy Director, Costain), Steven Naylor (Senior Scientist in HSE's Science and Research Centre & a technical lead on the Discovering Safety Research Programme) and of course, our very own Kevin Donaghy (CEO of AuditComply).
If you're interested in learning more about how AuditComply can transform your organization's compliance program, request a demo today.