Food Sector Specialist Alan Gibson Joins AuditComply
Richard Wilson
February 23, 2023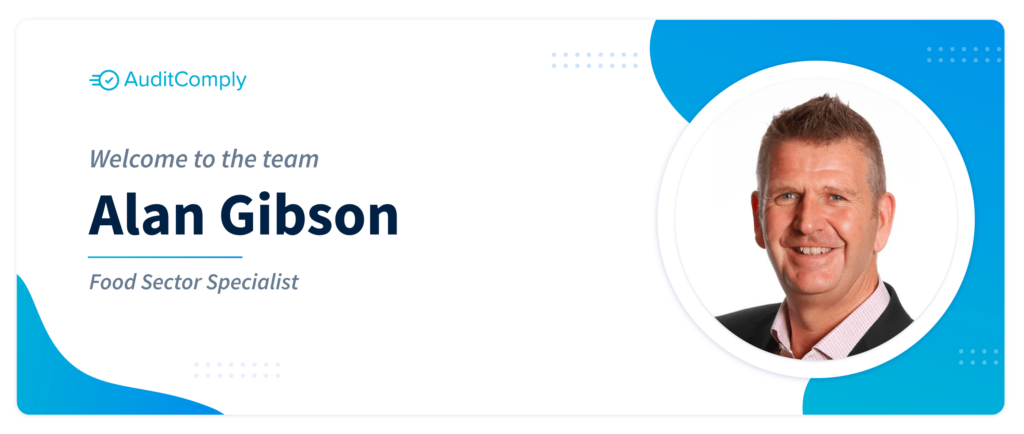 Alan's expertise in the food industry will be invaluable to AuditComply as we continue to look for ways to innovate and improve our products and services. With Alan's deep understanding of the latest trends and consumer preferences in the food sector, he will be instrumental in helping us stay ahead of the curve and deliver high-quality products that meet the evolving needs of our customers.
Meet Alan Gibson, our newest Food Sector Specialist.
We are thrilled to welcome Alan Gibson as the newest member of AuditComply, bringing with him over 25 years of Food Industry Leadership experience. Alan joins AuditComply as a Food Sector specialist, bringing unique insight to our team and customers. Supporting our ambitions to grow sales across new markets and new customers.
Alan has held a number of Executive Board positions at Moy Park (part of JBS Brazil, the world's largest protein company), where laterally as UK&I Director he led a highly complex food supply chain with revenues > $1.5B, over 800 farmers, multiple processing facilities serving both retail and fast-food customers such as Tesco, Sainsburys, McDonalds and KFC. Alan understood the importance of trusted, connected and timely data in supporting an aligned culture and high team performance, both of which helped position Moy Park as a leading European food business.
The AuditComply Team, who are bringing such impactful and transformational digitisation solutions to customers globally. There has never been a more important time to control everything that is within our control, simplify business processes and in so doing manage risk and deliver operational excellence.
Speaking of his experience in the Food and Beverage Sector, Alan said "Having been involved in the food industry for over 25 years, it has been a tremendous experience to deliver safe, convenient and nutritious food for consumers, while also ensuring sustainable returns for farmers, employees and shareholders. With so many moving parts, trust, data and collaboration were key ingredients to success. Our challenge now is with a growing population, to produce more affordable and nutritious food from less, while also facing the challenges of covid, inflation, Ukraine and climate, all of which are affecting outcomes and increasing risk. Building resilience at every level across the food supply chain will be foundational to future success – transparent and timely data will be a key enabler."
Prior to joining AuditComply, Alan was Chief Commercial Officer at Devenish, the global agri-food technology business, where he led the commercialization of new technologies such as Omega 3 DHA chicken and eggs. He is also a Director at Wilson's Country Foods, and the US Chairman of The Sport Changes Life Foundation.
Alan's passion for food and human health is evident in his involvement with The Nourish Movement, a US based group of global leaders coming together to connect and empower human health through food and data. As a steering committee member, Alan is helping to drive positive change in the way we think about food and health.
Alan graduated with a BSc (Hons) in Food Science from Queen's University Belfast, an MBA from the University of Ulster, and has attended Executive Leadership Courses at Harvard Business School in Boston.
We are excited to have Alan on our team and look forward to his unique blend of insight and experience to help deliver a better experience for our team and our customers.
If you are passionate about helping teams thrive and are excited by the opportunity to make a big impact at a fast-growing company, we'd love to talk to you! Check out our open roles and apply today.