5 AuditComply Features to Streamline your Inspection Process
Richard Wilson
June 14, 2018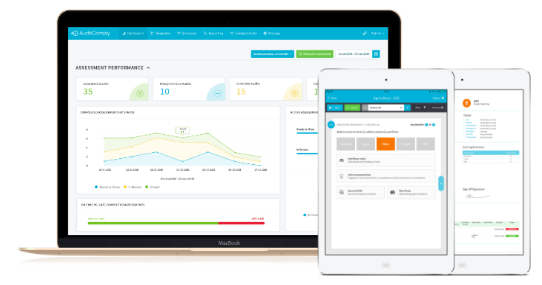 In the past year, we have seen the fall of a number of high profile organizations due to their failures to comply with industry regulation. The source of these issues leads back to a lack of visibility and poor quality control techniques. The need for a stringent and robust inspection process has never been greater.
AuditComply's Risk & Performance Management software streamlines all your inspection tasks: build forms and checklists, schedule inspections, record data and track corrective actions. Use this data to track and boost performance across departments, teams, locations – the whole organization. Mitigate risk, improve quality and drive compliance all from one centralized platform.
Below we've selected five important AuditComply features that will make your current inspection process more cost effective, time efficient and streamlined.
(1) Real-time reporting with 360 degree visibility
With the all-new AuditComply dashboard users are provided with a complete 360 degree view of their risk and performance profile. With full visibility and real-time data analytics, users can spot trends and locate issues immediately. Using our executive dashboards in correlation with our issue management feature allows users to report on non-conformance root causes, corrective actions and authorize supplier claimbacks.
Find your data quickly, anytime and anywhere. This real-time reporting feature provides organizations and users with further opportunities to drive performance through better control and greater business insights.
(2) Mobile Ready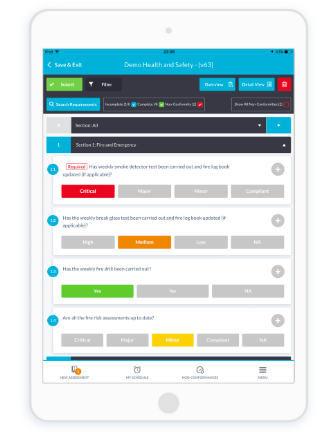 When choosing a risk and performance management platform to meet user needs, think mobile. Flexibility is key and is a great benefit to any organization conducting regular inspections. AuditComply wants to make every organizations inspection process as flexible and streamlined as possible. Take advantage of AuditComply's mobile and offline functionality. Access your inspection forms and checklists remotely from any location. With AuditComply Mobile, perform inspections directly from the floor or the field on your mobile device even during periods of non-connectivity. Users now have more data at their fingertips than ever before.
-Request a live demo of AuditComply's mobile app here.
-Learn more about taking your Quality Management System Mobile here.
(3) Document Control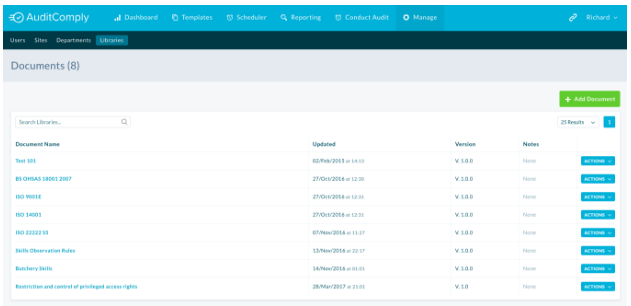 AuditComply's document control feature is a ready-to-use, secure, centralized system for such document types as manuals, procedures, work instructions, product specifications, inspections, SOP and GMP'S, test methods – just about any documents you want, all linked to your Assessments and Audits. Track versions and revisions and ensure only accurate, up-to-date documents are used. Document control is a fundamental part of your quality management system.
(4) Instant Report Generation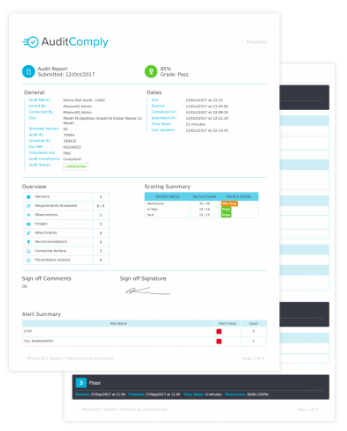 AuditComply simplifies your workload and allows you to focus on the important issues in your business by significantly reducing time spent report writing with our automatic report generation feature. With real-time insight into what's happening users no longer have to wait days or even weeks for reports, they are available as soon as the inspection is completed.
Reports are then automatically graded and distributed to relevant staff. A PDF report comes complete with images, observations and details of non-conformities delivered directly to your inbox. This time-saving feature allows for managers to spot issues and risks before they turn into bigger problems. No longer are you digging through Excel spreadsheets, Word documents and emails. Everything now comes together in one simple report, branded, scored and graded if required.
(5) Corrective and Preventative Action Management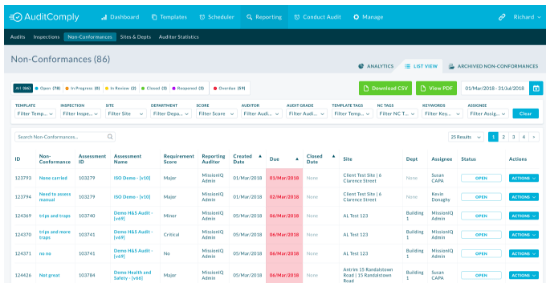 AuditComply's Corrective and Preventive Action (CAPA) management feature allows you to generate a CAPA request that guides you through review, root cause, corrective action taken, and verification stages. The Corrective Action tracking feature generates multiple reports automatically, providing an effective database for tracking and tagging your non-conformances. Mitigate risk and avoid unnecessary costs, develop a culture of continuous improvement with AuditComply.
To stay up to date with AuditComply, follow our blog.
About AuditComply
AuditComply is a Risk & Performance Platform. We focus on solutions that provide visibility and control from one centralized system. Empowering organizations to implement robust complex assessment methodologies through their desktop and mobile application. Providing a clear accurate understanding of risks across the organization and clear understanding into an organization's risk profile. Using this data, to Mitigate Risk, Drive Compliance, Improve Quality & Power Performance.
For further information, please visit AuditComply.
To avail of a free trial of the award winning AuditComply solution, or to discuss a potential partnership, contact the team on info@auditcomply.com.