In today's ever-changing environment where Enterprise Risk Management continues to evolve, simply doing what you've always done is not longer good enough. When it comes to digitizing your risk management processes it is no longer a case of 'if' but 'when'. However, there are still organizations out there, struggling and putting themselves at risk every day with poor Risk, Compliance and Quality systems.
Enterprise Risk Management is an essential tool for tackling operational uncertainty, however, organizations are not gaining the expected benefits from their current legacy systems – teams are underperforming, issues continue to be raised and costs continue to rise.
Cultural aversion to change can be a huge issue faced by members of an organization who are seeking to improve their Risk, Compliance and Quality processes. This could be due to technology being heavily associated as a cost centre by board members and CEO's – rather than valued as a source of innovation and revenue. Organizations steeped in tradition enjoy the 'comforts' of legacy systems. They continue using these outdated systems, regardless of the age, quality and effectiveness of the underlying technology. The software has been working just fine for decades and is still capable to cope with most of its tasks. Indeed, "If it ain't broke why fix it?".
Overcome Cultural Resistance with AuditComply
No Mobile Capabilities, Device Dependant
With the large amounts of data that today's businesses generate, legacy technology will quickly become overwhelmed, slowing down an entire organization's operations. Technology moves incredibly fast, legacy systems – once suited for their time – were not developed to support modern technology eg. cloud, mobile and the Internet of Things (IoT). These are all elements that have played key roles in capturing great amounts of risk data, allowing organizations to glean important insights, make smarter decisions and strengthen their GRC programs.
If your software can only be accessed from a single device, you are probably severely lagging behind your competition – cloud-based SaaS products supersede any on-premise system.
Without mobility, organizations are relying on their employees to collect, enter and consolidate data – rather than focusing on improving their Risk Management processes, this exposes organizations to human error, basing critical business decisions on compromised data. The time spent collecting, validating, reformatting and consolidating data is tedious, cumbersome and hard to digest. An ERM platform like AuditComply makes the auditing and inspection process for your organization simple and more flexible, allowing key risk personnel to focus on what really matters.
The flexibility of AuditComply is invaluable, especially for those organizations that have employees operating in the field. AuditComply's mobile app is unrivalled for conducting fast, detailed audits that maximize efficiency. It allows users to upload evidence directly to observations and reports, raise corrective actions and communicate them to the appropriate person, all in real time.
Cost
The costs associated with unreliable data, system maintenance and inefficient use of resources mean issues and problems go undetected. All these inefficiencies put you at a great disadvantage for managing risk effectively- which not only adds to the cost, but could negatively impact the future of your organization.
AuditComply gives organizations an instant return on investment. Enterprise customers select us because we deliver value on day one and we embrace change seamlessly to meet their daily needs, provide visibility, reduce costs and drive operational efficiencies whilst anticipating and managing enterprise risk. Organizations need a powerful, scalable and advanced analytical engine that is trusted to uncover business critical data that drives better business decisions.
Legacy IT Systems can't be scaled
Legacy applications have been the backbone of companies for years -maybe even decades, but longevity has its drawbacks. If your business model, processes, or simply the scale of operations change, your risk software must be able to keep up. If your system lacks the ability to accommodate your needs, you might end up adapting your business to your software; effective enterprise risk management processes cannot be performed in these cases.
Ask yourself these questions:
–Can your risk legacy system support increased production capacity?
–Spot hazards/issue in real-time, deliver 360-degree visibility into your organization's processes?
–Will it have the capability to scale, adapt and change correspondingly in the future?
It's time to act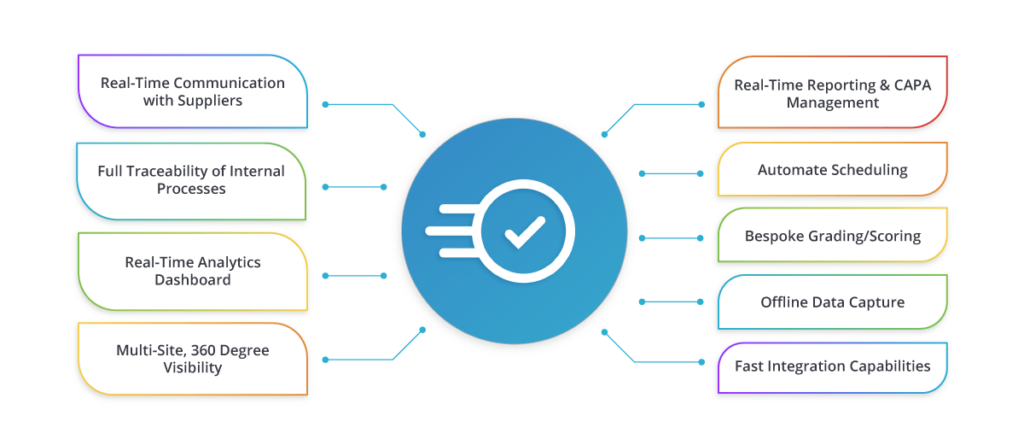 Continuing with legacy systems can be tempting for organizations but by doing this you are exposed to problems that could impact your organization as a whole. To avoid the problems associated with legacy systems the solution is clear and available today. Focus on removing the barriers that are causing your organization to hesitate over upgrading your IT systems and change to a flexible platform Enterprise Risk Management (ERM) platform.
AuditComply Enterprise Risk Management (ERM) platform operates within highly regulated industries such as Automotive, Food & Beverage, Oil & Gas and Manufacturing, with clients throughout the UK, US, EU, Middle East and Asia Pacific regions.
We add value on day one for our customers, providing innovative solutions to revolutionize the world of GRC.
AuditComply
AuditComply is an Enterprise Risk Management (ERM) platform. We are the next generation of GRC platforms, developing comprehensive solutions for Enterprise Risk, Quality, Compliance & EHS management, all in one centralised platform. A data-driven, SaaS-based solution to spot hazards/issues, monitor risk, tackle uncertainty and boost performance.
AuditComply has combined the comprehensive enterprise workflow with the speed and ability to deploy a mobile-first app. Enterprise customers select us because we deliver value on day one and we embrace change seamlessly to meet their daily needs, provide visibility, reduce costs and drive operational efficiencies while anticipating and managing enterprise risk. AuditComply increases productivity through efficient data collection, instantaneous reporting, issue tracking and data analytics. Supply Chain management is simplified with remote self-assessments, non-conformance/issue management workflows and bespoke performance monitoring.
Effective operational & strategic decisions can be made quickly with risk profiles displayed on easy to consume management dashboards, allowing key personnel to filter results by site, auditor or assessment; providing full 360 visibility & improved accountability – in real time. Establish a culture of risk awareness, good governance & compliance at every level.
The AuditComply ERM platform is trusted and utilized by more than 50 organisations worldwide, some of whom are leaders in their industries. Our diverse and varied customer base includes many well-known global brands such as Autoliv, KDD, McCloskey, Sysco, Cooke Aquaculture and Bushmills.
Want to find out more? Learn more from our growing list of customers!