Ensuring Food Safety & Quality with Paperless Audit Management
Richard Wilson
December 5, 2019

The World Health Organization estimates that 600 million – almost 1 in 10 people in the world – fall ill after eating contaminated food and 420 000 die every year, resulting in the loss of 33 million healthy life years (DALYs).
Recalls have become a critical pain point and many are calling them the food industry's greatest threat to profitably. An industry report by the Food Marketing Institute showed that the average cost of a Food & Beverage recall for an organization can be $10 million in direct costs – not including the additional loss of sales or damage to brand reputation.
Food products can become contaminated at any stage in the supply chain, from farm to distribution. However, as we enter industry 4.0, we are seeing rapid technology advances and more stringent regulations to combat these supply chain issues.
One of the main reasons we are still witnessing product recalls is due to the complexity of the modern supply chain and poor risk management practices. Organizations that still depend on manual, paper-based systems are at a great disadvantage. The high risks associated with paper make it significantly difficult to optimize and streamline FSQA programs.
Click here to read about Nestlé's Supply Chain Scare Calling for a More Robust QMS
Why should organizations avoid using paper?
-Difficult to scale
-Communication deficiencies
-Lack of leadership engagement
-Heavy reliance on IT teams
-Inefficient scheduling
-Manual report generation
-Disjointed data management
-Poor data integrity
-Lack of accountability
-High chance of errors or poor input
-Missed detection opportunities for risk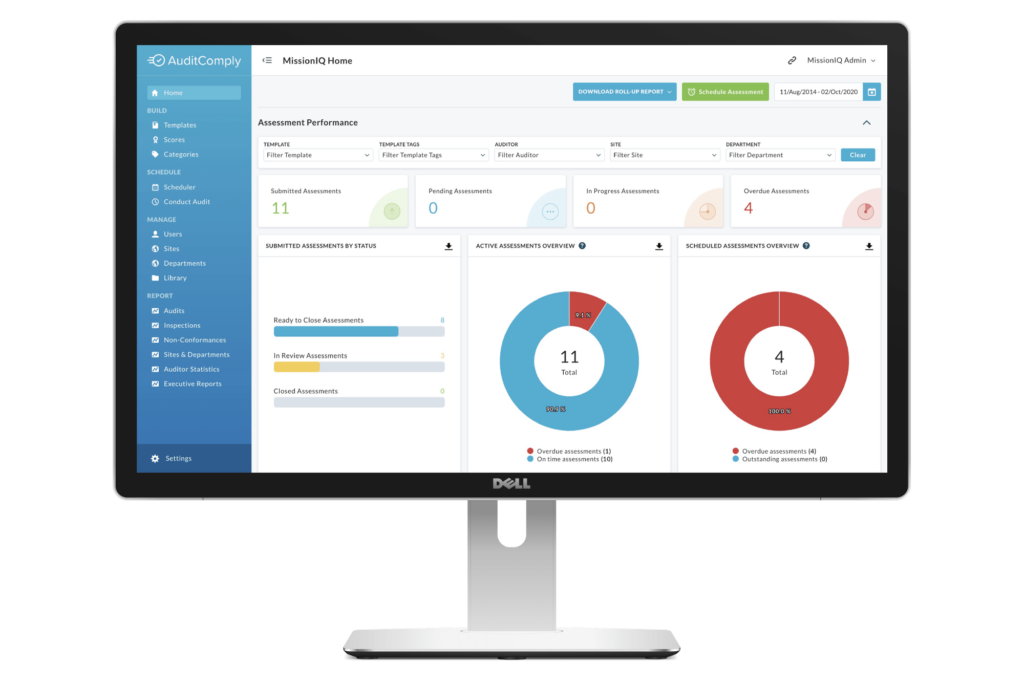 However, with that being said, many organizations and government bodies are already making a move towards a digital transformation, transforming their organization from a process-driven culture to a data-driven culture. They know, making real-time, evidence-based decisions is now crucial for optimizing Enterprise-wide FSQA operations, preventing threats and boosting profitability.
How can an Enterprise Risk Management platform help optimize FSQA performance?
Embrace Real-Time FSQA Insights to Pursue Continuous Improvement
Many F&B organizations lack vital visibility in areas where they are underperforming, making it difficult to optimize performance.
-AuditComply's Enterprise Risk Management (ERM) platform provides real-time visibility of all your FSQA data
-Detailed dashboards allow organizations to identify trends, track supplier performance and make informed decisions to enhance their overall FSQA program
-These dashboards are key for external auditors seeking evidence that an organization is in control of any issues that may arise. It's also important to filter through your Non-Conformances, demonstrating effective analysis and corrective actions in response.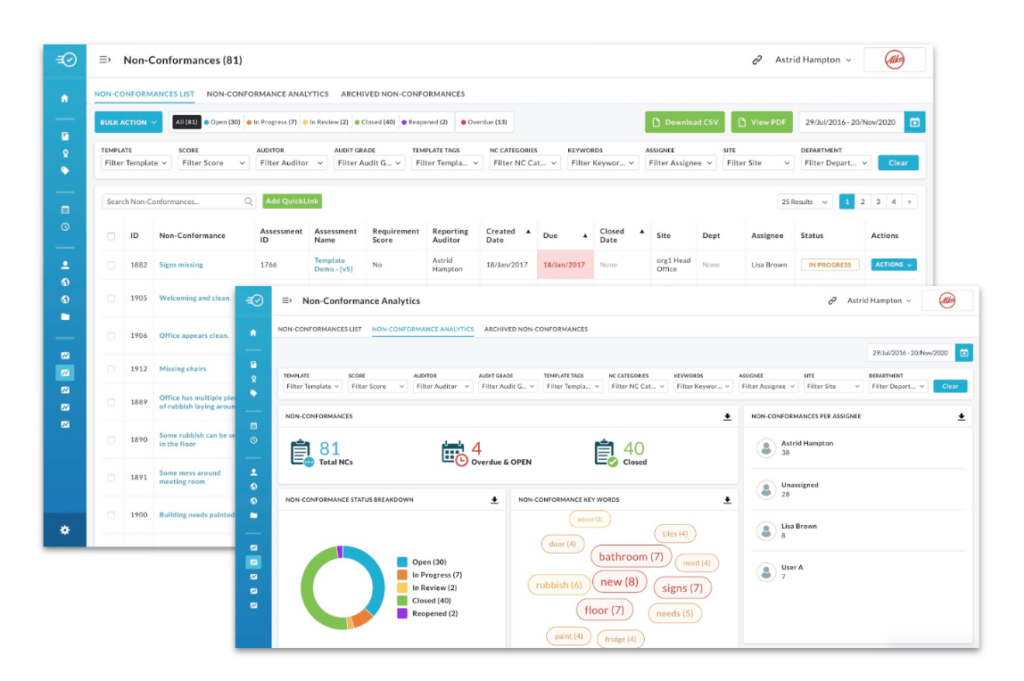 Reduce The Administrative Burden with FSQA Issue Remediation and Root Cause Analysis

Manually collecting, storing and tracking statistics can be labour-intensive and an administrative burden. It can take organizations hours, if not days to identify any issues that need immediate attention. With AuditComply, every Non-Conformance is displayed on real-time dashboards, making it easier for organizations to manage internal FSQA programs and streamline supply chain compliance.
-AuditComply has built-in workflow for issues, allowing assessors to review corrective and preventative actions before close out
-Non-Conformances and tasks can be captured, categorized and assigned
-Auditors have the benefit of setting default due dates and time frames based on the criticality of issues
-Track the progress, analyze and trend with Non-Conformance reporting dashboards
-Peel away all the layers of symptoms to undercover the underlying root-cause, allowing you to tackle large scale problems before it's too late
Automatic Report Generation
-Automatic report generation simplifies your FSQA workload and reduces time spent reporting writing
-Reports are automatically graded and distributed to relevant staff
-Reports can be downloaded in PDF format, complete with images, observations and Non-Conformances
Reduce Costs & Increase Profitability
-Non-compliance costs can include fines, productivity loss or brand reputation damage
-The risks associated with non-compliance are significant with the potential for reputational damage, temporary closure or worse
-If organizations are found to be non-compliant, they can be forced to implement expensive, time-consuming structural changes before continuing operation
Think ahead!
Today, organizations are leveraging ERM software to optimize risk management processes, protect their reputation and simplify their compliance and audit tasks. Over the next number of years, organizations will reduce the risk of food recalls and improve their quality control by embracing a digital transformation; driving their FSQA programs with real-time data.
FSQA Management with AuditComply
AuditComply is revolutionizing the way industry leaders like Sysco, Cooke Aquaculture and Bushmills assess and report in real-time on FSQA, supplier performance, and inspection processes. Streamlined Non-Conformance workflows with photographic evidence and built in communications offer greater control and visibility. A mobile risk management solution that assures compliance with SQF, HACCP and USDA regulations seamlessly across all F&B facilities. Learn more at https://www.auditcomply.com.
"AuditComply is playing a crucial role in changing the quality & compliance culture. A world-class system, a game-changer in our industry. We required a solution that was mobile, automated our data and could be easily accessed in real-time to ensure we are meeting quality standards across the supply chain." – Johnny Elgin, Sysco