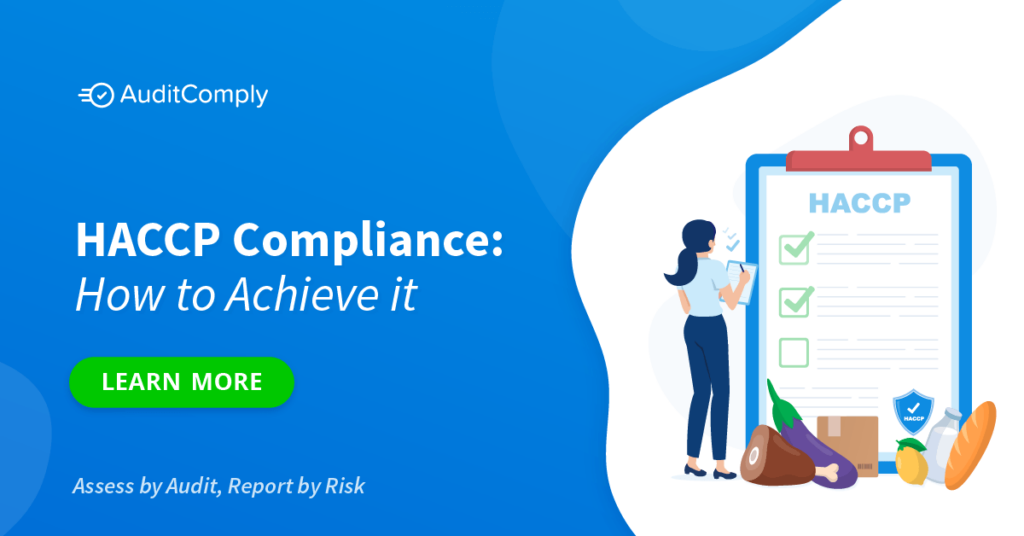 What is HACCP & How do I Ensure my Business is Compliant?
If you run a food business, you should be familiar with HACCP, but how confident are you that your business is compliant? Hazard Analysis Critical Control Points (HACCP) is an internationally recognized method of identifying and managing food safety related risk and is even a legal requirement in the UK.
A compliant HACCP strategy, in conjunction with an active food safety program, can provide your customers, the public, and regulatory agencies assurance that your food safety program is well managed. This guide outlines the 7 principles of HACCP that will enable you to shape your HACCP food plan and provide you with the framework to efficiently manage the process through AuditComply.
HACCP Principles
HACCP is a systematic approach to the identification, evaluation, and control of food safety hazards and can be broken down into 7 HACCP Principles. We have summarized these 7 Principles, including all of the essential guidance for your business so that you can optimize your HACCP process.
Conduct a hazard analysis.
You should start by looking at your operation in stages (e.g. purchasing, delivery, storage, preparation, cooking, chilling etc.) Identify where things can go wrong at each step of the process. At the conclusion of your analysis you should have a thorough list of hazards which are of such significance that they are likely to cause injury or illness if not controlled.
Determine the critical control points (CCPs).
Identify the points in your operation that ensures control of the hazards e.g. cooking raw meat thoroughly will kill pathogens such as E. coli O157. The accurate determination of CCPs is vital to ensure that there is effective management of food safety. The number of CCPs in your process will depend on your specific process and the scope of your investigation.

Establish Critical Limits.
This is a critical step to comply with HACCP! Setting a maximum and/or minimum value to which a biological, chemical or physical parameter must be controlled at a CCP in order to prevent, eliminate or reduce the occurrence of a food safety hazard.
Establish Monitoring Procedures.
Once you have established your critical limits, it is important to have a way to monitor and record what is happening at each CCP. Monitoring should be simple, clear and easy to do e.g. probe refrigerated food to ensure that it is being maintained below 5°C.
Establish Corrective Actions.
When a CCP is not under control, it is critical you intervene and take corrective actions. A written Corrective Action Plan is required, and each corrective action must be documented. By adopting AuditComply to manage your HACCP process, you can set parameters, raise non-conformances and manage corrective actions with built-in real-time reporting.
Establish Verification Procedures.
Verification is the principle where you can confirm that the HACCP Plan, if followed, will produce safe food for the consumer. Review and correct the system periodically and whenever you make changes to your operation. If you need help with this, you can request our guide 'The 12 Steps To Develop A HACCP Plan' below.
Establish Record-Keeping and Documentation Procedures.
For the successful implementation of HACCP based procedures, appropriate documentation and records must be kept and be readily available. It is unrealistic to operate HACCP based procedures or to demonstrate compliance with the current legislation without providing evidence such records. Utilizing AuditComply will provide your business with a 360-degree overview of your organization's processes, generating real-time data across multiple sites and locations.
Making your HACCP Food Plan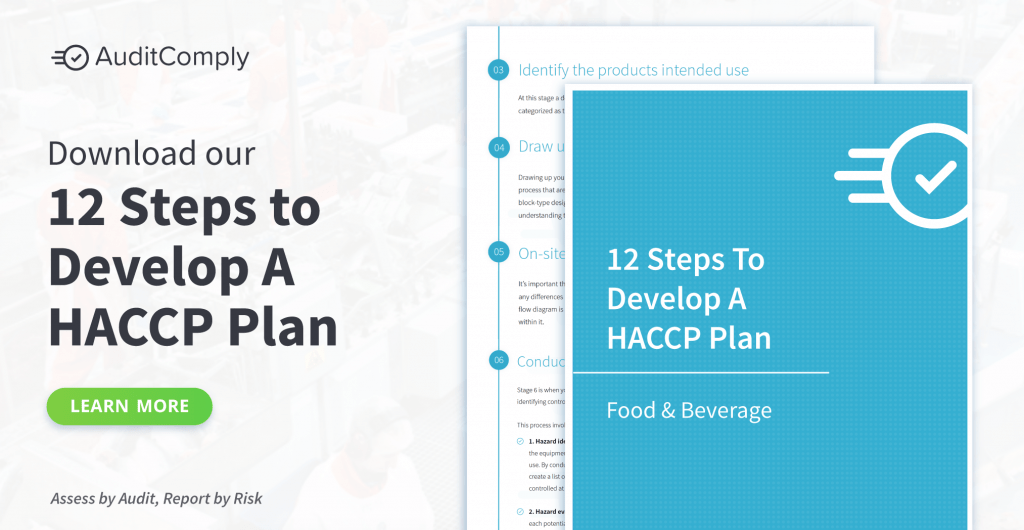 Failing to keep your HACCP Food Plan updated might lead to the production of unsafe food, which could be a hazard. The maximum penalty for failing to keep your food safety standards is a 2-year sentence.
Manage your HACCP Process with AuditComply
AuditComply is a Risk & Compliance Management Platform. We focus on solutions that empower your organization to simplify your business processes while driving compliance, reducing risk and improving performance.
AuditComply continues to facilitate the Food & Beverage sector with the management of regulatory compliance demands, maximizing productivity and efficiency throughout all levels of the supply chain. Our platform will help your business manage HACCP as well as ISO 22000, SQF, BRC and IFS.
Find out how AuditComply will help you maintain quality to HACCP with our customizable assessment models, decision trees and a built-in supplier module. Enable your organization to make smarter decisions and drive operational performance in the ever-complex food & beverage industry.
Complete our form below to arrange a demo with our team. Help us understand your challenge and we'll do the rest.