Food Manufacturing GRC: Cloud Vs On-Premise?
Aimee Lyttle
August 17, 2022

The past few years have seen a plethora of challenges for food manufacturing. From the COVID-19 pandemic and the chaos which followed, to the ongoing labor crisis. Food organizations everywhere have been required to adapt quickly to these unprecedented circumstances or risk being left behind.
To improve resilience in the face of adversity we have been witnessing first hand rapid digital transformation, delivering real-time decision making, enhanced productivity and flexibility, transforming the way we manufacture, improve and distribute our food products. Industry 4.0 has brought us improved IoT (Internet of Things), cloud computing, analytics and AI. Advancements leading to more automation, optimization of processes, and predictive maintenance of software are encouraging unparalleled efficiency throughout the manufacturing process. In fact, 74% of companies within the Food and Beverage industry have said that digitalization and cloud software has provided their organization with a competitive advantage.
Digital transformation has created a positive shift in how organizations manage their Governance, Risk and Compliance (GRC) functions. Forward-thinking GRC food professionals are moving towards the use of cloud-based risk-intelligent software to give them that competitive edge, translating better compliance and risk management into opportunity. With cloud-based platforms on the rise for GRC reporting, more organizations are realizing that everything they thought they understood about the differences between Cloud and On-Premise is wrong; let's break down the differences.
On-Premise GRC for Food & Beverage
An on-premise solution can be defined as an in-house solution that may be supported by a third party. Your on-premise solution is likely tied to premises within your organization hosted on dedicated servers. The preference of on-premise GRC is built upon the assumption that the outsourcing of a solution opens the door to unwanted cyber risk, and having all data situated internally and behind the organization's firewall can provide reassurance. It can be argued that the use of on-premise GRC and knowing where data is stored at all times, with full oversight and control can aid towards remaining compliant. Using in-house servers and IT infrastructure to run your GRC program may give your enterprise more control; however, it also means much less flexibility and scalability. Before you decided to choose on-premise it's important to consider the following:
Security
One of the biggest misconceptions about on-premise GRC is that it's the more secure alternative to cloud. A company running its own on-premise servers retains complete control over security. However, they are responsible for setting up access policies, installing firewalls and antivirus software, ensuring security patches are installed and guarding against cyberattacks. The security of your entire system, including data, is left in the hands of your employees. For a company with dedicated IT support, on premise can give full control and a sense of confidence that servers are unbreachable and thus don't require external organizations to secure their private data. On the other hand, on premise can leave organizations vulnerable to security threats if the required standard of monitoring and maintenance is not upheld.
Data Management
When initially setting up an on-premise solution there is a lot to consider. This process will likely take a substantial amount of time in comparison to implementing a cloud-based solution like AuditComply, where launching and implementation is handled by us. It is the sole responsibility of the organization to carry out installation to the server and individual devices. After implementation of an on-premise solution, the organization is then responsible for all activity, acting on any necessary updates and configurations, as well as ensuring that data storage remains uncapped and any additional required servers are added accordingly. With these responsibilities also comes the need to acquire staff with relevant skill sets, such as specialized technicians, to understand, manage and maintain your on-premise strategy.
Cost
It is widely misconceived that outsourcing a cloud-based GRC platform is more costly than implementing your own on-premise platform. There is a belief that a high upfront cost for appropriate software licensing is more cost-effective in the long-term than paying a monthly fee to an external provider. Conforming to this attitude overlooks the cost of procuring hardware, hiring staff to maintain server upkeep, and buying software licenses. Running servers also means significant expenditures for electricity and cooling systems. As the hardware reaches the end of its lifecycle, repair and replacement costs arise.
For a cloud user, the only charge is a monthly fee.
Cloud-Based GRC Advantages for Food & Beverage
The adoption and implementation of AuditComply's GRC solution will allow for the integration of each of your organization's GRC functions into one platform, reducing a large portion of potential human error. This introduction of automation also allows for the freeing up of resources which may be needed elsewhere, as well as other notable benefits which include the following:
Maintenance
Maintenance of software (including updates) is carried out automatically by the cloud provider, drastically reducing the responsibilities of the organization's IT department.
Security
Security threats, such as data breaches and cybercrime are alleviated given the advanced security features offered by cloud providers and their web service provider, likely being Amazon Web Services, Microsoft Azure and Google Cloud platform.
Cost
The majority of organizations will find that cloud computing will cost them less than on-premise infrastructure. Here are the factors that will influence the cost difference.
-No upfront hardware or server license costs
-No hardware replacement costs
-You pay for what you use
-No infrastructure expenditure (Power and Electricity)
-No Cost of IT Maintenance
Scalability
Cloud aids the organization in responding quickly and efficiently to changing demand, with the ability to increase capacity without the need for additional physical infrastructure.
Employee Satisfaction
The flexibility of cloud-based software encourages increased job satisfaction for your employees, supporting the modern workplace approach with the only requirement being a device with an internet connection.
Overall, organizations will find cost savings in the cloud and from the factors listed above it's clear why. The new wave of digitalization and the vastly growing industry of Software-as-a-Service (SaaS) may leave organizations wondering which direction to take when implementing a single-platform solution. If you are moving to the cloud to save money, make sure you understand both the costs benefits and process benefits cloud-based platforms have to offer.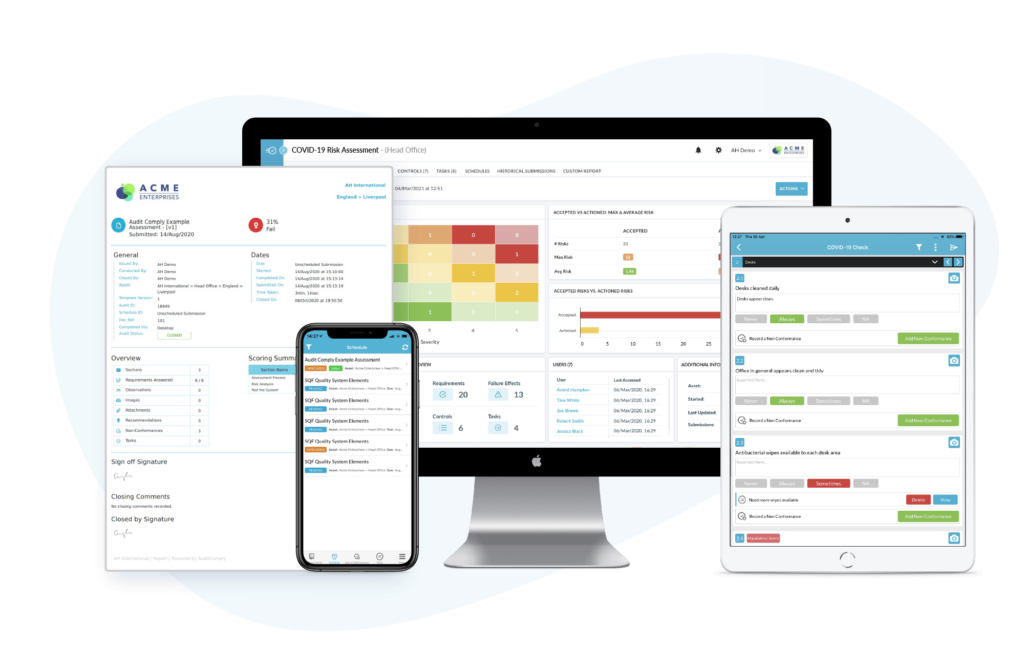 AuditComply is recognized as an industry leading platform across Food & Beverage. Offering cloud-based GRC solutions to Food organizations moving away from legacy systems and pen & paper.
If you're interested in hearing more about how AuditComply will transform how your organization manages GRC, request a demo today and we'll handle the rest.