Managing Risks in the Food & Beverage Industry using ERM
Richard Wilson
September 27, 2019
The Food & Beverage industry is one of the most dynamic – it is constantly evolving. New government regulations and an increase in consumer sensitivity have prompted a rise in the awareness of foodborne illnesses and recalls. Food manufacturers, restaurants and grocery retailers are now all under immense pressure to sharpen their focus on food safety.
Not only are consumers concerned about possible physical contamination and foodborne illnesses, but their buying decisions are now heavily influenced by the potential long-term effects that different foods might have on them. This has brought factors such as supply chain transparency, fresh & minimally processed foods and health & wellness all into the food production mix as well.
Companies can no longer depend on a single process to manage quality and food safety due to it being such a significant enterprise risk. A smart and connected Enterprise Risk Management (ERM) system is now a business-critical tool in order to mitigate any associated risks within the food industry. Without a robust ERM System that integrates and oversees all aspects of operations, companies will struggle to quickly identify and resolve problems – having a comprehensive system in place will put organizations on the front foot in terms of recognizing risks early and mitigating them effectively.
Operational risks go beyond the basics of regulatory compliance- it includes all aspects of an organization such as customer satisfaction, brand management, supplier and process risks. Food safety should be championed and governed at the corporate level to effectively manage the operational risks in organizations.
Four components should be considered to identify and mitigate the myriad of risks within an organization: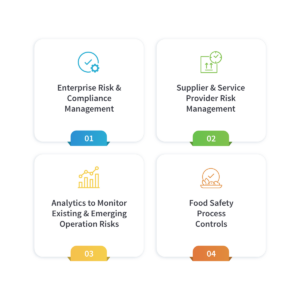 (1) Risk & Compliance Management – Assessing an organization's performance against regulatory requirements, internal standards and customer expectations.
(2) Supplier and Service Provider Risk Management – Identify and mitigate risks that may occur with suppliers and distributors.
(3) Food Safety Process Controls – Ensure that the food being produced meets regulatory and organizational requirements and is safe for consumers.
(4) Analytics – Provides data on how each of the other food safety components (above) are performing across the organization.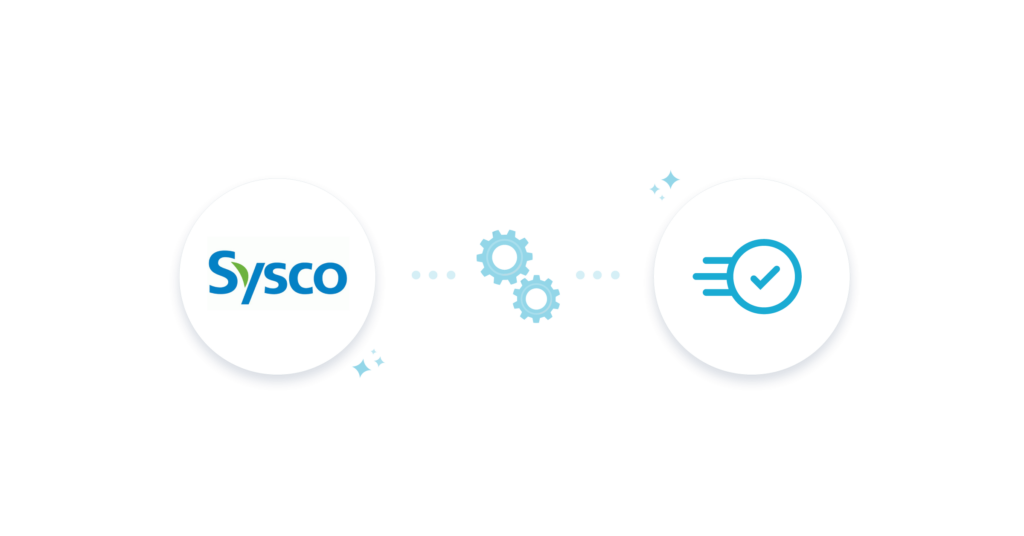 Implementing an Enterprise Risk Management (ERM) platform like AuditComply gives organizations in the food industry the opportunity to implement digital, automated assessment solutions so that they can be proactive about their Risk, Quality and Compliance initiatives, providing real-time operational visibility for quality and delivery.
Sysco Foods is the world's global foodservice leader with its robust international network supporting customers in 90 different countries. AuditComply started out in a subsidiary of Sysco Foods (Louisiana Foods) who were looking to find:
-A centralized and integrated solution that managed both their quality metrics and streamlined communication with suppliers.
-A digital solution to mitigate risk through the raising and management of non-conformances across the organization.
-To save time, money and improve accountability to match food quality standards throughout their supply chain.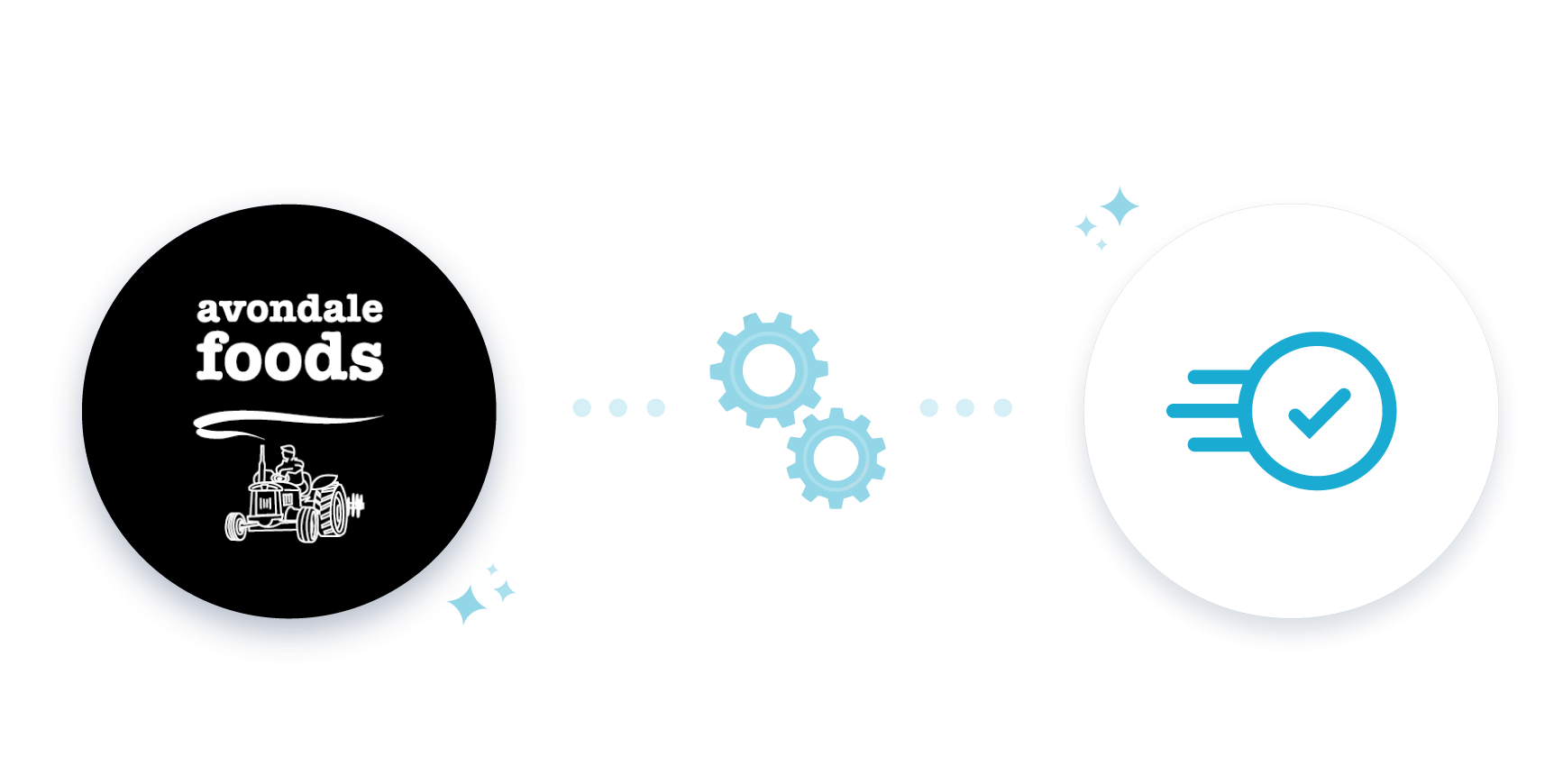 So impressed with the functionality and the incredible results in Louisianna Foods. AuditComply has now been rolled out across 27 locations in Sysco's Specialized Meats division in the US and Canada with other divisions to follow.
AuditComply's Enterprise Risk Management platform allows large organizations like Sysco Foods to gain 360-degree visibility, redefining their quality, supply chain & compliance processes. Our real-time monitoring allows Sysco foods to identify and tackle risks early, meeting their demand to detect, report and manage issues in an intelligent systems approach.
"AuditComply is playing a crucial role in changing the quality & compliance culture. A world-class system, a game-changer in our industry. We required a solution that was mobile, automated our data and could be easily accessed in real-time to ensure we are meeting quality standards across the supply chain." – Johnny Elgin, Quality Manager, Louisiana Foods.
Avondale Foods is a fast-growing food manufacturer based in Northern Ireland supplying to the UK and Ireland's leading grocery retailers with fresh salad products.
Avondale Foods, having adopted the AuditComply system are confident of delivering consistently for their customers through their quality system from farm to fork as well as always being "audit-ready" and BRC compliant. The ability to digitize monthly GMP assessments for example, with the ability to assign and schedule half-hour/hourly production line inspections via the mobile app or desktop platforms has dramatically improved their operations. Supply chain performance will also be revolutionized with remote self-assessments and non-conformance/issue management workflows. Real-time reporting has provided 360-degree visibility of all enterprise-wide EHSQ audits, summarizing near-miss data sets and quickly identifying risk trends through the utilization of executive dashboards and intelligent analytics. Avondale Foods now have the ability to assess, raise and track issues associated with their fleet by digitizing their daily vehicle inspections.
AuditComply helps you manage regulatory compliance demands within the food and beverage industry, allowing you to meet expectations across all levels of the supply chain, in both a cost-effective and efficient manner. Quality and safety in food manufacturing is a top priority, ISO, HACCP, BRC, SQF, FSA and IFS processes can all be efficiently and effectively managed with AuditComply.
To avail of a free trial or demo of the award-winning AuditComply solution, or to discuss a potential partnership, contact the team on info@auditcomply.com.
Want to find out more? Learn more from our growing list of customers!