Release 5.5 – Supplier Management Like You've Never Seen!
Richard Wilson
April 9, 2020

What's New with Release 5.5?
We are very excited to introduce our new & powerful Supplier Risk & Performance management feature! A feature that has been reimagined to make it easier for you to effortlessly manage your supplier or third-party risk remotely.
This added functionality will significantly reduce the time spent & cost involved when assessing & managing the health of your supply chain – adopting a complete remote auditing experience.
This newest feature was developed around two ideas:
Firstly, to help streamline supplier information gathering & management remotely. Whether it's onboarding, due diligence, certification requests, real-time monitoring or compliance assessments.
Secondly, to enhance the visibility of supply chain health in real-time. Remotely assigning non-conformances or tasks & documenting all third party interactions for better information management.
Here are a few shots of the new process:
(Assigning a user to your supplier organization.)
(Suppliers will receive a tokenized login, allowing them to view assessments, NCs or tasks)
What does this mean for AuditComply customers?
Better management of information
In just one click, organizations can get a full picture of the particular supplier. Displaying such information as assessment or certification status, supplier grade, associated business units & more.
Continuous Supply Chain monitoring
Leverage powerful reports & real-time analytics to help management teams across the enterprise make informed decisions. Scheduling recurring assessments & building automated communications flows to ensure real-time status of supplier network health.
Effortless Supplier Due Diligence
Identify key risk issues clearly with a standardized due diligence process. Building bespoke assessment templates based on specific compliance requirements.
Intelligent Supplier Grading
AuditComply's unique grading schemes allow users to record scores, set rules & create thresholds during data capture – qualifying & grading suppliers appropriately.
Streamlined Issue Management
Resolve identified issues during due-diligence, certification review, or ongoing assessments with a fully remote data capture & remediation process.
Have questions about release 5.5? Drop us a message at help@auditcomply or visit our Help Centre to find out more about this new feature.
Would you like to learn more about how AuditComply can give you the power to manage your supplier & third party risk in a more streamlined & efficient way? Schedule a demo of the AuditComply Enterprise Risk Management platform now.
Experience Remote Auditing with AuditComply.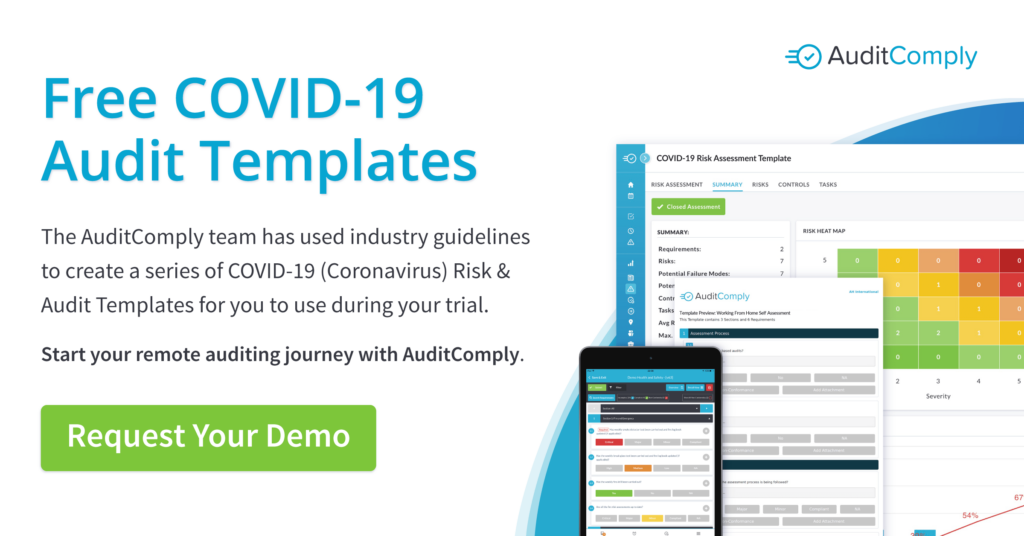 For auditors everywhere, this has become a busy and challenging time – but work must go on, albeit under different conditions. While your 'commute' just got shorter and your office more comfortable, the world of Risk & Compliance has only become more difficult to manage.
AuditComply offers a range of collaboration and remote auditing features, making it easier for everyone to work from home, connecting your entire team, wherever they may be.

Until everything returns to normal, stay safe and more importantly, if you can, stay home!
About AuditComply
AuditComply is an Enterprise Risk Management platform. An integrated risk management solution revolutionizing the way enterprises manage, analyze & report on critical risk.
AuditComply operates in highly regulated industries such as Automotive, Aviation, Food & Beverage, Oil & Gas, Finance, and Manufacturing with key fortune 500 clients situated throughout the UK, EU, US, Middle East and Asia Pacific regions.