COVID-19 – What Does It Mean for Meat Processing & Food Safety?
Richard Wilson
July 8, 2020


Disclaimer: The COVID-19 situation will differ greatly by country and is changing rapidly – this resource is not legal advice and should be considered educational in nature. It is imperative that business leaders keep abreast of government guidelines & regulatory announcements surrounding COVID-19, even as restrictions begin to ease.
When Coronavirus (COVID-19) started to spread, the impact was felt across the Food & Beverage industry – facilities closed, production ground to a halt and thousands lost their jobs. Those facilities and processing plants that were deemed essential to stay open, were under increasing pressure to mitigate the spread, taking additional precautionary measures to protect both their food supply and the safety of their workers.
As Europe sees the number of cases of the coronavirus start to fall we are likely to see an increase in the number of small outbreaks – or clusters – of the disease.
In recent weeks we have seen an increasing number of infection rates among plant works, specifically in pork, beef and poultry processing plants. With COVID-19 infection rates still rising, what does this mean for your food safety program, the global meat/poultry trade, and the safety of millions of workers in the industry?
Food For Thought (1)
At this time, there is no evidence to suggest that livestock or poultry play a significant role in spreading the virus. Based on the limited information available to date, the risk of animals spreading COVID-19 to people is considered to be low. Furthermore, most raw meat that is sold, will be cooked at high temperatures before consumption, decreasing the likelihood of virus transmission.
Many consumers may not be aware, that even before COVID-19 was announced as a worldwide pandemic, most manufacturers had existing protocols in place to decrease the transmission of pathogenic microorganisms from food handlers – these are now in addition to extra COVID-19 safety obligations.
Meat-processing plants are ideal breeding grounds
According to a CDC investigation, there are various factors at play that make meat-processing plants ideal breeding grounds for the virus. The combination of poor social distancing, environment and many socio-economic factors, make these plants the ideal incubator for coronavirus.
Alum Semple, Professor of Child Health and Outbreak Medicine at the University of Liverpool, says that the biggest factor encouraging the spread of Covid-19 in such settings, is likely to be the environment. Such facilities are cold and lack natural light.
"If I wanted to preserve a virus I would put it in a cold, dark environment or a cool environment that doesn't have any ultraviolet light – essentially a fridge or a meat processing facility," he said. "If you have a cold nose that will help the virus take hold. And when you shout you produce more of the virus particles," he added.
Reopening Your Food Business
Reopening your business after a long period of closure will require additional steps, checks and further risk analysis, above and beyond your 'routine' assessments. Part of this process will be to ensure all basic hygiene, health, safety, quality and compliance standards are being met in accordance with local government regulations and safety obligations.
Whether you're building your risk assessments for the first time or simply revising them, attention should be given to all potential vulnerabilities or anomalies that have the potential to create hazards (PPE, Production, Facility, Travel, Supply Chain etc). By identifying potential risks today, ranking them by severity, likelihood and impact, you will make your organization more resilient in the long term.
(AuditComply Risk Assessment Example)
Food manufacturers must demonstrate that all operational processes comply with local government regulations and safety obligations in order to mitigate the risk and protect workers from contracting or spreading COVID-19. It's essential that all processes and mitigation activities are documented, allowing you to demonstrate that you have done everything as reasonably practicable. Health & Safety criminal laws will be enforced & employers that do not risk assess for COVID-19 or fail to provide safe working arrangements are at risk.
(AuditComply Issue Management Example)
How Your Risk & FSQA Management System Can Help
If you have the right Risk & Food Safety Management System in place, you should understand most of your vulnerabilities in your organization already. Once identified we recommend adding any control or mitigation measures/activities as part of your Hazard Analysis Critical Control Point (HACCP) plan.
The HACCP system is internationally accepted as the system of choice for food safety management.
The seven principles the plan is based on are to:
identify any hazards that must be prevented eliminated or reduced
identify the critical control points (CCPs) at the steps at which control is essential
establish critical limits at CCPs
establish procedures to monitor the CCPs
establish corrective actions to be taken if a CCP is not under control
establish procedures to verify whether the above procedures are working effectively
establish documents and records to demonstrate the effective application of the above measures
The HACCP approach provides a systematic way of identifying food safety hazards and making sure that they are being controlled every day. (FSA, 2020)
Food For Thought (2)
Take time to step back and assess your Risk and Audit plan to understand how COVID-19 has impacted your processes. There may be some negative impacts on resources and budgets. Even possible furloughing may have affected your work programs and future plans.
The majority of your assessment resources should be focused on the management of risk controls, highlighting the highest priority risks if you want to get your business up and running as quickly as possible.
Create Risk Assessment templates to include all the potential risks that will impact your organization within the next 6 – 12 months, even if the likelihood of these risks are low. Once risks have been identified, implement controls and assign tasks to control owners aligned with changes in procedures. Include risks such as managing the cross-contamination between raw and ready-to-eat foods.
Start developing a recurring schedule for audits to take place against particular areas of your business. This will help auditors obtain sufficient information and document evidence in a timely manner. It will also help keep audit costs at a reasonable level.
(AuditComply COVID-19 Example Risk Assessment)
Carry-out a full facility assessment to determine if you can undertake a thorough clean or if a professional deep clean is needed.
Conduct staff due-diligence and ensure they are fit for work. You may wish to consider any appropriate changes to your visitor assessments to address COVID-19 exposure risks.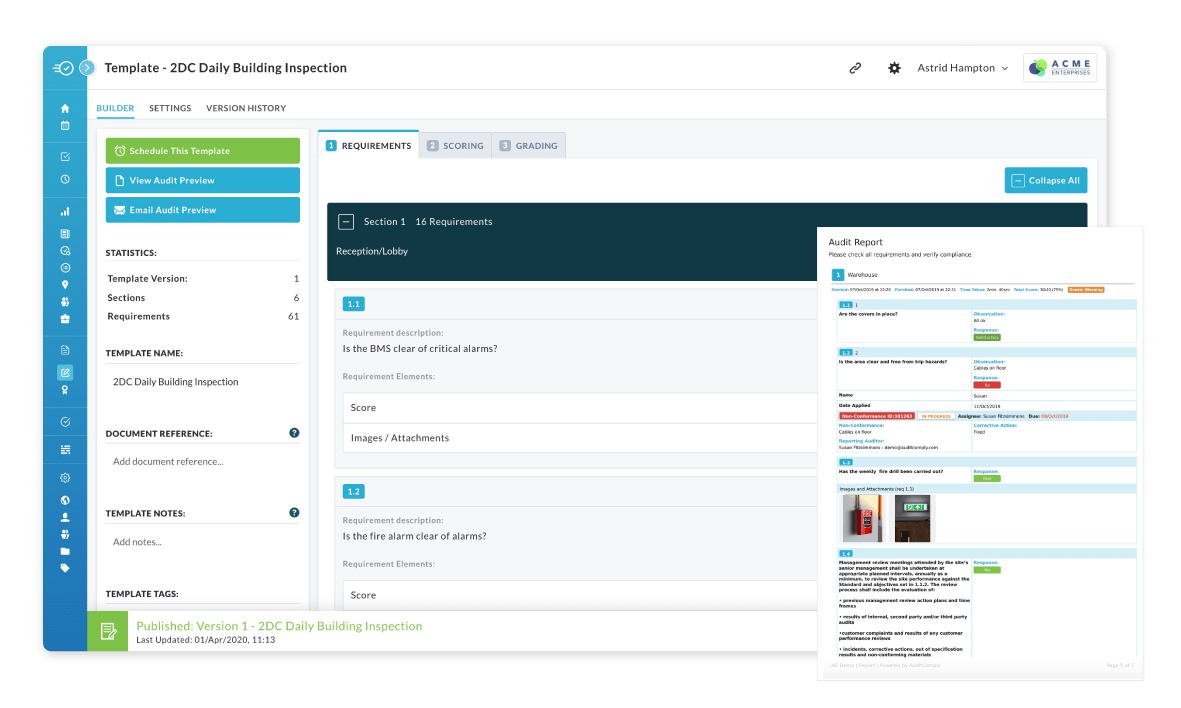 (AuditComply Template Builder. + Report)
If you haven't already, display additional information/signage throughout the workplace, communicating which measures can prevent the spread of COVID-19
Keep up to date regarding the latest guidance on the use of PPE. Employers should have all necessary PPE in stock (if it's required for employees to safely do their job).
If necessary, put in place stations to wash your hands including additional hand sanitizer stations and antibacterial wipes (restock regularly).
Keep up to date with the latest public health guidance, WHO updates and local government advice. Communicate all updates to employees on a regular basis.
Ensure any changes to procedures are communicated to staff and training is provided where appropriate, including training of any new staff.
What should you consider as part of your facility risk assessment? Here are some example controls:
Social Distancing Controls: E.g. maintaining at least a 6 feet distance whenever possible
Employee Journey Controls: E.g. designating a single point of entry
Air Flow Controls: E.g. wherever possible, exhausting room air and delivering clean air; if re-circulation is required, this should be done in concert with appropriate filtering (HEPA) or sterilization measures (e.g., UV)
Air Flow 2: E.g. if fans are used in the facility, ensure fans blow clean air toward workers' breathing zone
Employee Protection Controls: E.g determining if it is possible to place physical barriers between workers on production line (e.g., plexiglass)
PPE Controls: E.g. ensuring there is adequate stock levels for PPE if it is required for the workforce to do their job safely.
How can AuditComply help?
Using a dedicated Risk & Audit Management platform like AuditComply is imperative. Not only will you have the ability to build your own risk assessment templates, update risks/controls in real-time and track issues through to completion, you will also have a full understanding of your risk status in real-time, documenting and reporting on the whole process as you go.
Meet Returning-to-Work COVID-19 Government Guidelines with Ease
AuditComply is helping organizations manage their Health & Safety Risk & Regulatory Compliance programs, making sure organizations are fully prepared for when employees return to work
Save Time & Money Managing Risk & Employee Health & Safety
Risks are changing fast so you need a platform that can give you real-time feedback on your COVID-19 Risk status. Use AuditComply to assess, manage & report in just a few clicks.
Make Inspections Easy with Pre-built Risk Assessment Templates
AuditComply has a range of Pre-Built COVID-19 Assessment templates for you to use. With just two clicks, you have the ability to clone partial or entire assessments to effectively build your own.
About AuditComply
AuditComply is an Enterprise Risk Management platform. AuditComply combines an integrated risk and asset management approach to transform the way enterprises assess, manage & report on Critical Risk, Audit & Regulatory Compliance processes.
AuditComply operates in highly regulated industries such as Automotive, Aviation, Food & Beverage, Oil & Gas, Finance, & Manufacturing with fortune 500 customers situated throughout the UK, EU, US, Middle East and Asia Pacific regions.