Who are the BRCGS?
The BRCGS (Brand Reputation Compliance Global Standards) is a global trade association. The aim of the association is to supply food retailers with a common approach to food supply chain auditing. Formerly known as the British Retail Consortium until 2019, the association published its first standard in 1998. The BRCGS have contributed to harmonizing food safety standards across the supply chain and have established itself as the global benchmark for food manufacturers.

The BRCGS is responsible for setting standards on a wide range of areas including HACCP, traceability, food fraud prevention and food safety culture. In this guide, we will examine the BRCGS Food Safety Standard and consider how the imminent release of BRCGS Issue 9 will affect future food safety audits.

What Is the BRCGS Food Safety Standard
Developed with input from the food industry, the food safety standard provides a framework to help food organizations manage their product safety, integrity, quality and operational controls. Since its inception, we have seen a year-on-year increase in recognition of the standard, making it the largest global food safety programme and the leading consumer protection organization; used by over 29,000 certificated suppliers in over 130 countries.
BRCGS standards are accepted by 70% of the top 10 global retailers, 60% of the top 10 quick-service restaurants and 50% of the top 25 manufacturers but now a revision of the standard is underway with Issue 9 set to be launched in August 2022.
When Will Certification Against Issue 9 Commence?
The new edition of the food safety standard is coming soon – but don't panic! Your organization will still be audited against Issue 8 until February 2023. To date, we have only seen a draft version of Issue 9. The full release is expected in August 2022, so if you are reading this article you are already ahead of the game. Below are some key dates to be mindful of:
Sign-up to our monthly newsletter for any changes to this timeline along with regular industry news.
What Are the Main Changes in Issue 9?
If your audit is on or after 1st February 2023, you'll be audited to BRCGS Food Safety Issue 9 and should consider the changes below.
COVID-19 & a Blended Audit Option
The introduction of a blended audit option is the single most exciting development in Issue 9. The pandemic has accelerated behaviors and methodologies which were once seen as on the fringes, to the forefront. Formerly considered exceptions and non-acceptable activities like working from home or distance learning, are now mainstream and the auditing process has not been immune to this.
While the blended audit is usually conducted in a conference room, it can now be done remotely using a video platform like Zoom or Microsoft Teams to facilitate the sharing of documents, files, and records. Following this, the next stage of the audit will be conducted on-site within 28 days.
Focus on Food Defense
Issue 9 will place an increased emphasis on food defense and root cause analysis. Vendor approval clauses have been improved by ensuring that companies consider food defense and food fraud as central to the assessment process. Food defense has its own section and can be considered, jointly with food fraud, in the same document.
Facilities
Overall, the facilities section has seen minor adjustments, with stronger requirements for equipment control and commissioning, catering, and more.
Animal Conversion
The section on animal conversion, which defines the exact controls that must be in place in slaughterhouses, is an example of one change that has emerged as a requirement directly from the GFSI benchmark process.
HACCP
Another key change in the draft is the requirement for HACCP or food safety plans to be validated before implementation or prior to any changes that could affect product safety. This is to ensure that plans effectively identify hazards before they happen. Read our guide on how to develop your HACCP Plan below.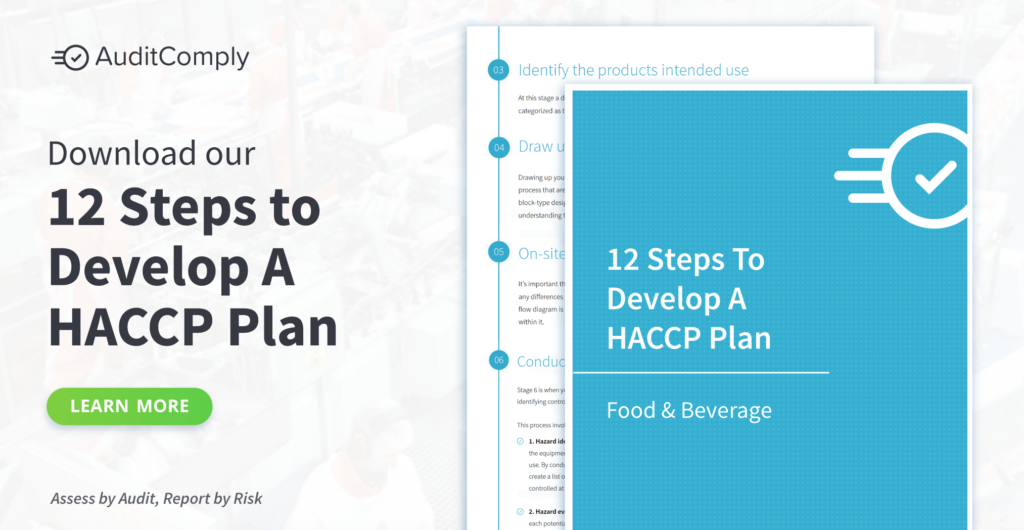 How to Get Ready For Issue 9
Issue 9 aims to promote best practice and ensure that organizations are adhering to strong, consistent food safety standards. By achieving BRCGS certification, you can assure customers you are highly competent at monitoring and continually improving the quality and safety of your food product. Provide confidence that your organization has taken every possible precaution to prevent problems should quality or safety ever be challenged.
AuditComply BRCGS Issue 9 Software
Our solution empowers Food Manufacturers to simplify their business processes while driving compliance, reducing risk and improving yield. AuditComply for Food & Beverage helps your organization meet BRCGS demands, maximize productivity and efficiency throughout all levels of the supply chain. Providing a single platform to manage HACCP, ISO, SQF, BRCGS and IFS standards.
Achieve HACCP, ISO, SQF, BRCGS & IFS Compliance
AuditComply provides a 360-degree overview of your organization's processes, generating real-time data across multiple sites and locations. Capture your data offline with your mobile application, which is then reflected on easy-to-consume dashboards, all in one centralized, secure system.
Maintain BRCGS compliance with bespoke assessment models, decision trees, full CAPA Management and a supplier module. Enable your organization to make smarter decisions and drive operational performance in the ever-complex food & beverage industry with AuditComply.
Complete our form below to arrange a demo with our team. Help us understand your challenge and we'll do the rest.