BRCGS Food Safety: Taking the Blended Audit Approach
Aimee Lyttle
October 12, 2022

Recognized worldwide for its contribution towards harmonizing food safety standards across the supply chain, the Brand Reputation Compliance Global Standards provides a framework to manage product integrity, legality, quality and safety in the food and beverage industry. BRCGS was the first of its kind to be GFSI benchmarked, and has been adopted in over 20,000 sites across 130 countries. By achieving a BRCGS Global Food Safety certification, food organizations are cementing their commitment to providing safe, quality food to meet the expectation of both the consumer and the regulatory requirements within the sector.

BRCGS Food Safety Issue 9
With such a strong reputation to uphold, the standard has continuously evolved with the times to ensure the protection of consumers, despite the turmoil experienced in the industry over the past few years. BRCGS Food Safety Issue 9 was released back in August, which includes key changes to food safety culture, validation and verification, training and competence, as well as changes to the audit protocol. Assessments against the updated standard will commence 23rd February 2023, allowing for a six month turnaround period. Now is the time to learn more about the updates to BRCGS Food Safety to get your organization aligned with Issue 9. Our On-Demand Webinar will guide you through the process and allow you to consider how the changes may affect your food business and your customer.
How has Audit Protocol Changed?
COVID-19 has accelerated behaviors and methodologies which were once seen as on the fringes, to the forefront. Formerly considered exceptions and non-acceptable activities like working from home or distance learning are now mainstream and the auditing process has not been immune to this. Lockdowns and government regulations saw the increasing need for remote assessments and thus the recent updates to BRCGS Food Safety encourage a more blended audit approach between remote and on-site auditing.
The limitations of the traditional in-person auditing processes means that reliance on internal audit results and documentation are more important than ever – highlighted and considered in the development of BRCGS Issue 9. The updated BRCGS Food Safety standard has paved the way for the future of auditing, allowing for a more seamless execution of auditing activities and utilizing the appropriate benefits from each, such as the application of information and communication technology.
BRCGS Blended Audits
The blended audit option essentially splits the audit into two parts, on-site and remote. Starting with the on-site element, this part focuses on the physical aspects of auditing, such as site visits and testing, honing in on the production processes and storage facilities at the site. Communication with personnel also comes into play, whether that be a formal interview with leadership or a more relaxed discussion with employees.
The next part, the remote audit, places a big emphasis on documentation, policy and the reporting system in place. Typically, businesses have looked or are beginning to look towards third-party solutions, such as AuditComply, that can streamline these processes, providing greater accuracy for both their organization and the certification body.
In choosing the blended approach, the certification body will carry out checks on your IT capabilities of the site in question, prior to the commencement of any audits. These checks will clarify that the site has the appropriate systems in place to perform a blended audit, as well as determine what percentage of the audit will be carried out remotely, with a maximum of 50% (Part 111 Section 3).
Audit Frequency with Blended Audits
As a GFSI benchmarked standard, BRCGS Food Safety requires all certified sites to undergo an unannounced audit once within a three-year period. This comes from the added confidence that unannounced audits provide to the consumer. The protocol for announced audits will remain unchanged within the updated standard. However, every three years the certification body will inform the site as to which year their site should expect an unannounced audit. The specific date on which the audit is going to take place will not be communicated to the site, ensuring the nature and integrity of the unannounced audit remains intact.
Preparing to Go Blended
Your food organization has opted to blend both on-site and remote for an upcoming audit, but what measures should you take to prepare?
Given the focus placed on documentation throughout the blended audit process, it is imperative that everything you provide is of utmost accuracy. Prior to the audit, you will be required to upload requested documents to a portal. Prioritize some time to read up on and fully understand the pre-audit submissions, as well as understand the audit process that is due to take place. Think about the types of questions you may encounter throughout the audit and prepare to answer these questions.
A large portion of this type of audit is dependent on the compatibility of your IT. In preparation, look at your systems and define whether they are compatible with BRCGS blended audits. Collaborate with your tech-team throughout the preparation period and the audit itself. Make sure they are competent in the expectations of a blended audit, and available to resolve any issues that may arise. Consider your appreciation for the auditor's time and be proactive towards not wasting it due to minor issues.
Another useful practice in preparing for the audit may be to perform a test run on your technology. Test your WiFi connection, have a wired connection in place in case of emergency, get familiar with the platform chosen. You should approach the audit with as much information as possible. Every member of the team should know their part and feel confident to perform. There is no such thing as being over-prepared when it comes to food safety certification.
AuditComply BRCGS Food Safety Platform
AuditComply is a leading Food & Beverage GRC Management platform, designed by FSQA and Production Managers to meet the challenges of modern food organizations.

AuditComply is your food organization's backbone, protecting revenue, reputation, sustainability & governance. In one easy-to-use platform, users can assess, manage and report in real-time on internal FSQA standards (SQF, BRCGS, GFSI, FSMA, HACCP, ISO), supplier compliance and legislative requirements. Streamlined non-conformance workflows, photographic evidence collection, paired with built-in communications and automated task scheduling provide greater control and visibility. We are a mobile paperless solution that assures quality and compliance across all your locations without the need for manual recordkeeping.
Get ahead of the competition and learn how AuditComply can be your secret weapon in achieve AA+ grades across all your sites.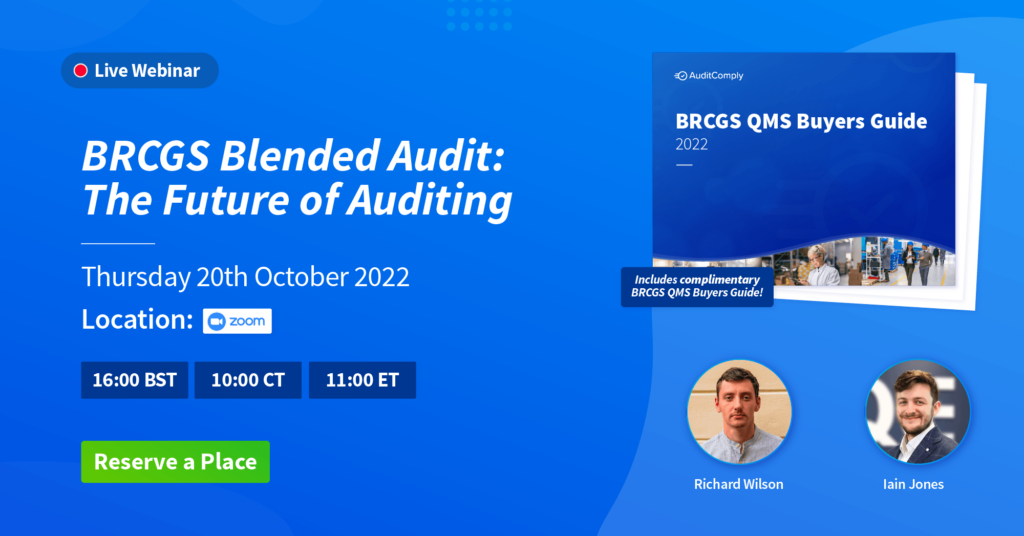 If you would like to learn more about how blended audits are paving the way for future audits, reserve a space at our live webinar.